You are previewing:

Serving Ghana: 70+ Everyday Ghanaian Indigenous Recipes for Hospitality with Step-by-Step Instructions (Hardcover)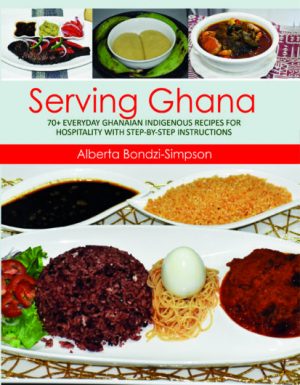 Serving Ghana: 70+ Everyday Ghanaian Indigenous Recipes for Hospitality with Step-by-Step Instructions (Hardcover)
Serving Ghana: 70+ Everyday Ghanaian Indigenous Recipes for Hospitality with Step-by-Step Instructions (Hardcover)
Full Colour Inside!
Serving Ghana: 70+ Everyday Ghanaian Indigenous Recipes for Hospitality with Step-by-step Instructions is a Ghanaian standard recipe book. The book is written in everyday language but takes care of a number of professional à la carte food production concerns of the professional chef.
With data collected through focus group discussions from thirteen ethnic groups as its basis, the book in addition to some nutritional information documents the recipes of popular indigenous soups, gravy, sauces and stews, grills and fries, one-pot dishes and carbohydrate accompaniments.
The book will facilitate the teaching and learning of younger generations to appreciate and cook Ghanaian local cuisine.
₵150.00
Available on backorder
SKU:

BK5160
Categories: African Authors, Author Origin, Cooking, Crafts, Hobbies & Home, Family & Lifestyle, Fitness & Dieting, Ghana, Health, Mothers, Parenting & Relationships
Tags: African Cuisine, African Dishes, African Food, Alberta Bondzi-Simpson, Cookbook, Cooking, Food, Ghana food, Ghanaian Cook Book: Favourite Recipes from Ghana, Ghanaian Cuisine, Ghanaian Dishes, Ghanaian food, Local food, Recipe, Recipes, Serving Ghana, Serving Ghana: 70+ Everyday Ghanaian Indigenous Recipes for Hospitality with Step-by-Step Instructions, West Africa
Dr. Mrs. Alberta Bondzi-Simpson, a Hospitality Marketing expert, was formerly a Senior Lecturer at the Department of Hospitality and Tourism Management, University of Cape Coast and is now the Vice-Dean of the Distance School and a Senior Lecturer at the Department of Marketing at the University of Professional Studies, Accra. She is also an Adjunct Lecturer at the University of Ghana Business School and a Governing Council Member of the Dr. Hilla Limann Technical University.
With a rich blend of academic and practical experience, Dr. Bondzi-Simpson was once the Key Accounts Representative of Nestle Ghana Ltd, the Manager of Sasakawa Guest Centre and an Instructor at the Cape Coast Technical University.
She holds a Doctor of Philosophy Degree in Hospitality Management, a researched Masters in Business Administration (Marketing Option) and a Bachelors of Management Studies with honours all from the University of Cape Coast, Ghana. She also holds two City and Guilds Certificates in Cookery for the Catering Industry and a Higher National Diploma in Hotel Catering and Institutional Management from the Takoradi Polytechnic, now Takoradi Technical University.
Dr. Bondzie-Simpson, over her nine years research career, has developed great research interest in customer service and consumer behaviour in the Hospitality Industry. She has published widely in these areas. She is also a strong advocate for the service of Ghanaian dishes in the Hospitality Industry and has done ground-breaking researches on the topic.
Customers Also Bought These