You are previewing:

My Media Journey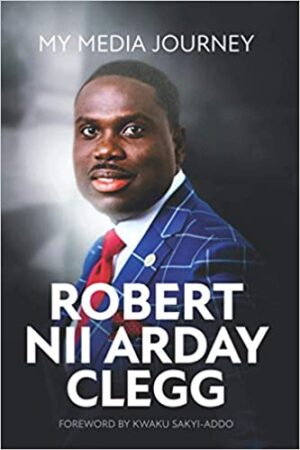 My Media Journey
My Media Journey
This book is the autobiographical account of a young Ghanaian man's unplanned entry into his country's vibrant broadcasting industry at the turn of the century, and his largely triumphant yet occasionally tumultuous journey through it.
Although his father, Sam Clegg, had been a fixture of journalism as a formidable national newspaper editor for nearly a decade, from 1983 to 1992, Robert Nii Arday Clegg wasn't drawn instinctively to the media. Young Clegg appeared to have fallen some distance away from the old tree that fruited him. It took a fair bit of coaxing and cajoling to bring him round to broadcasting, initially as a university campus studio cub, transitioning subsequently into the major leagues of radio talk show hosts in Ghana. The obstruction all along, he reveals, was his first love – no, not Mimi his beloved girlfriend who he was to marry later, but the Law profession.
My Media Journey is candid, completely unencumbered by flattery or camouflage. Clegg doesn't dress b.s. up in make-up and polite synonyms. Excuse the Trumpian expression, but spades aren't tremendous cutlery. What he sees as corporate shenanigans and acts of meanness are laid out unlaundered in the public square for readers, but so are acts of kindness and brotherly charity warmly and generously recounted.
From chapter to chapter, Clegg's character emerges of a focused, self-confident and fiercely stubborn young man with an unwavering sense of political independence. He demonstrates this in his on-air and editorial encounters at Radio Gold and Starr FM, both broadcast stations based in the capital, Accra, and which have politician owners. His values-based approach to broadcasting is evident when on multiple occasions he rejects, with ease, offers of under-the-table monetary rewards from newsmakers for work done in the regular line of duty, as well as from unnamed government officials. The title of this book notwithstanding, Clegg throws in his love of sports and regales us with his own prodigious exploits at hockey and the sprints, and how that passion helps to open the doors to his media journey.
Also, he makes no pretence of his pride in his academic achievements borne out of intelligence, hard work and self-belief which, consequently, put him top of his law faculty class and reward him with a long-held dream — a place at Harvard Law School.
As Shimon Peres put it in his foreword to Start-Up Nation – the Story of Israel's Economic Miracle, this book should be taken as an "interim report" on the evolving life and career of Clegg. It is but a small chapter in a much fuller story that is still writing itself.
— FOREWORD BY KWAKU SAKYI-ADDO
₵150.00
SKU:

BK4359
Categories: African Authors, African Biographies, African History, Author Origin, Biographies & Memoirs, Civil Liberties & Political Activism, Ghana, Historical, Historical Study & Educational Resources, History, Journalists, Media & Internet, Nation building, Politics & Government, Politics & Social Sciences, Politics & State, West African History
Tags: Ghana, Media, My Media Journey, Press, Robert Nii Arday Clegg
Robert Nii Arday Clegg is the Managing Partner at the eponymous corporate law firm of Nii Arday Clegg & Co. He advises companies on a wide range of corporate, commercial and transactional matters and is also a corporate law and governance trainer.
He regularly speaks at corporate governance events at the invitation of boards and management teams in several industries including financial services and oil and gas. He delivers informal teaching sessions to law schools and professional bodies and is frequently called upon to share his corporate governance insights on radio and television.
His articles have been published on the Comparative Corporate Governance Concentration Forum at Harvard Law School, in national newspapers as well as online.
He holds a Master of Laws (LL.M.) with 2 Honors in Corporate Law, Finance & Governance Concentration from Harvard Law School with cross-registration in Boards of Directors & Corporate Governance at Harvard Business School.
He also holds a Bachelor of Arts (BA) with First Class Honours from the University of Ghana, Legon where he was admitted to the Vice-Chancellor's Honours List for outstanding academic performance. He was adjudged the Best Graduating Student in Law at the same university and was awarded the Bentsi-Enchill Prize in recognition of this academic achievement.
On the occasion of his call to the Ghana Bar, he won the S.Y. Bimpong-Buta Prize for being the best student in the interpretation of deeds and statutes, the Alhajj Dramani Yakubu Prize for being the best male student in the interpretation of deeds and statutes, the Prof. Akua Kuenyehia Prize for being the best student in industrial law and the S.K. Kodjovie Memorial Prize for being the best student in the law of taxation.
On the media front, he was adjudged the Television Current Affairs Talk Show Host of the Year at the 2012 RTP Awards.
Robert is married to Mabel with whom he has 3 sons: David, Samuel and Robert Junior.
Customers Also Bought These