You are previewing:

FaceOff With The International 'MP'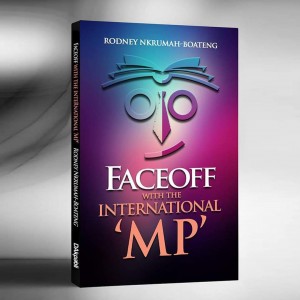 FaceOff With The International 'MP'
FaceOff With The International 'MP'
Face-Off With the International 'MP'
is a compilation of short stories, drama, different purposed letters, and jest, all garnished with an unusual but perfect mix of satire, wit and logic. The book walks readers through the experiences of the only 'Member of Parliament' representing a virtual constituency. The book brings to life issues in politics, romance, educational and career experiences both home and abroad, and short memos – files that the International 'MP' deals with 24/7. The right dose of laughter, the fluidity of Nkrumah-Boateng's unmatched imagery, the apt description of everything Ghanaian plus the solitary enjoyment of his entitlement as the only untenured MP combine to make this book a must-read.
"I introduce to you a reverently irreverent writer who pulls no punches, wears no kids' gloves, bars no holds and suffers no fools gladly. There is not a topic that Rodney is shy to address, and frontally and bluntly too." — Anan Anan Ankomah, Managing Partner, Bentsi-Enchill, Letsa & Ankomah
"Rodney glides you along on a momentum of choleric rhetoric and suddenly explodes your mind into an amusement park of satire, laced with intelligent and exciting lines of literary mischief." — Jason Tutu, Research & Development Expert
"Nkrumah-Boateng uniquely mixes truth and poetic satire: his wit, crisp humour, eloquence and fluid writing style, and the heretical elegance with which he makes his points, made you want to kick something…Little wonder a major radio station mistook his satirical narrative as fact, and serialized it on radio!" — Kofi Bentil, Lawyer/Vice President, IMANI
"Rodney's writing always leaves me wanting more." — Dr. Victor Bampoe, Former Deputy Minister for Health
₵65.00
SKU:

BK546
Categories: African Authors, Author Origin, Ghana, Nation building, Politics & Government, Politics & Social Sciences, Promos & Bundles, Social Science, Travel
Tags: Facebook, Faceoff with the International 'MP', Rodney Nkrumah-Boateng
Rodney Nkrumah-Boateng grew up in Tarkwa and Prestea in Ghana's Western Region. He was educated at Opoku Ware School in Kumasi and the University of Ghana, where he earned a B. A. in French and Political Science.
He undertook further studies in law at City University and the College of Law, both in London. Following this, he worked briefly with the Legal Services Commission in London before going on to work for various law firms specialising in immigration advice and advocacy.
He returned to live in Ghana in April 2011, and is currently the Press Secretary to the Minister of Education.