You are previewing:

Kwame's Adventures: Tease and the Missing Science Book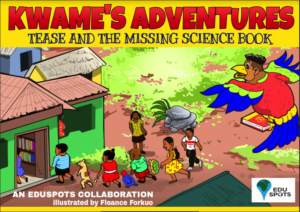 Kwame's Adventures: Tease and the Missing Science Book
Kwame's Adventures: Tease and the Missing Science Book
Age Range: 5+ years
Kwame the Bird, the main character, is exploring Ghana and lands in Tease. He has the ability to talk to and interact with humans and possess other powerful qualities. Kwame flies to meet new people and learn about their use of the library and their cultural activities. He makes a first stop at Tease, a community in the Afram Plains South District of Ghana where she meets the users of the library, helps a girl find a missing book, attends a traditional ceremony, and joins a folktale session before flyting to the next community.
The first in a series, the book aims to help beginner readers relate more with the text they read by reflecting the everyday happenings of children in suburban Ghanaian communities.
Please note that profits from the sale of this book will be donated to EduSpots, an educational charity registered in Ghana and the UK.
₵15.00
SKU:

BK4370
Categories: 9-12 years, Activities, Crafts & Games, Age Range, Ages 6-8 years, Beginner Readers, Children & Teens, Children Classics, Early Childhood Education, Illustrated books, Short Story Collections
Tags: African fiction, Beginner Readers, Early Years, Ghana, Kwame's Adventures: Tease and the Missing Science Book
This book, the first of its kind from the EduSpots network, is a product of collaboration between Ghanaian pupils and their counterparts in the UK under the EduSpots global school partnership project. Ghanaian illustrator, Fleance Forkuo, illustrated the first of the 'Kwame's Adventures' series.
EduSpots connect, train & equip educational Catalysts to drive community-led change. The organisation runs several programmes in literacy, STEM and global citizenship education among others. Find out more at www.eduspots.org.
Customers Also Bought These