You are previewing:

Knowledge Management and Network for Capacity Development: A Focus on Institute of Directors Ghana (Hardcover)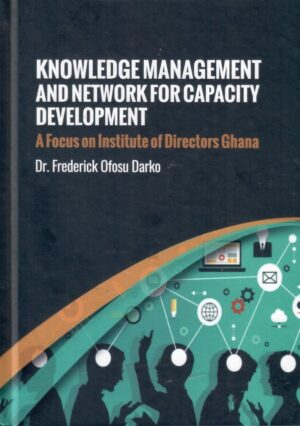 Knowledge Management and Network for Capacity Development: A Focus on Institute of Directors Ghana (Hardcover)
Knowledge Management and Network for Capacity Development: A Focus on Institute of Directors Ghana (Hardcover)
The book examines how directors in Ghana share tacit knowledge and experiences on the board. The rationale is that there is the tendency for boards In Ghana to lose tacit knowledge, experiences, skills and particularly up to date knowledge required to inform their decision making due to lack of practical knowledge management system for directors' capacity development. The focus is to examine how the Institute of Directors Ghana (IODG) can manage knowledge with the view to tackling challenges leading to losing tacit knowledge, experiences, and skills of boards in Ghana.
The objective is to influence boards of organizations in Ghana to recognize and initiate knowledge management practices, as well as adopt policies that support the application of practical knowledge management systems and interpersonal networks for directors' capacity development in Ghana.
The results revealed the existence of records of minutes of meetings indicating a latent existence of knowledge management system within organizations but not formalized as a knowledge management system. Also, significantly missing was technology for knowledge transformation.
The book recommends knowledge management systems backed by technology for acquiring and sharing directors' knowledge for successful knowledge transformation.
₵100.00
Available on backorder
SKU:

BK4154
Categories: Academic papers, African Authors, Author Origin, Business, Finance & Law, Development & Growth, Development Studies, Economic Policy & Development, Economics, Education & Teaching, Family & Lifestyle, Ghana, Health, Historical Study & Educational Resources, Ideologies & Doctrines, International Economics, Management & Leadership, Medical, Professional Development, Reference, Research & Publishing Guides, Science Studies
Tags: Frederick Ofosu Darko, Institute of Directors Ghana, Knowledge Management and Network for Capacity Development -A Focus on Institute of Directors-GH, Knowledge Management and Network for Capacity Development: A Focus on Institute of Directors Ghana (Hardcover)
Dr. Frederick Ofosu Darko is the immediate past president of the Institute of Directors Ghana and the CEO of Terabyte Consult Ltd which specializes in providing Leadership and Governance Training. He is a Management expert, a Chartered Secretary, and Administrator, a certified knowledge Management Practitioner, Information management expert, and a Trained Master Trainer certified by International Financial Corporation (IFC), a member of the World Bank Group. He works extensively with Senior Management, Directors, Boards, and Employees providing excellent training, expert consultancy, facilitation, and business coaching. He is also an expert in Corporate Strategy. He has been a resource person for the Institute of Directors, Ghana since April 2007 and has been consulting and providing training for a number of public, private and non-governmental institutions such as Graphic Communications Group, National Insurance Commission, Engen Ghana Limited, CARE International, etc. He has worked as a lecturer at Thames Valley University and Jeff Wooller College both in London and lectures at Zenith University College in Ghana and has authored four textbooks namely: Management Information Systems, Business Communication, Strategic management and Essentials of Corporate Governance. He is a Graduate Member of The Institute of Chartered Secretaries and Administrators (ICSA London). He holds a first degree in Economics and Sociology from (University of Ghana - Legon). A Post Graduate Diploma in Information Management (Business Option) from (Thames Valley University - London), a Master of Science in Financial and Legal Management from (Thames Valley University - London) and a Doctor of Management (DOM) from SWISS Management Center University (Switzerland).
Customers Also Bought These