You are previewing:

Jane Eyre (Penguin Readers Level 4)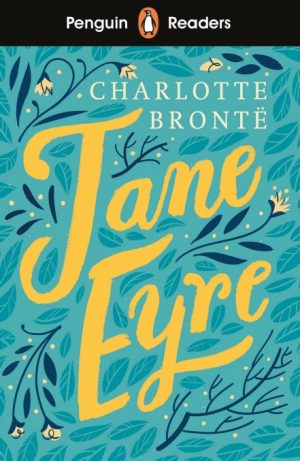 Jane Eyre (Penguin Readers Level 4)
Jane Eyre (Penguin Readers Level 4)
Age Range: 12 – 17  years
Jane goes to work at Thornfield Hall as a governess for the strange Mr Rochester. They become friends and she is finally happy. But Mr Rochester is going to marry the beautiful Blanche Ingram and soon Jane must leave Thornfield forever.
Penguin Readers is a series of popular classics, exciting contemporary fiction, and thought-provoking non-fiction written for learners of English as a foreign language. Beautifully illustrated and carefully adapted, the series introduces language learners around the world to the bestselling authors and most compelling content from Penguin Random House. The eight levels of Penguin Readers follow the Common European Framework and include language activities that help readers to develop key skills.
The Kissing Booth, a Level 4 Reader, is A2+ in the CEFR framework. The text is made up of sentences with up to three clauses, introducing more complex uses of present perfect simple, passives, phrasal verbs and simple relative clauses. It is well supported by illustrations, which appear regularly.
₵28.00
Out of stock
SKU:

BK5048
Categories: 9-12 years, Action & Adventure, Activities, Crafts & Games, Age Range, Animals, Book Sets, Children & Teens, Children Classics, Classics, Education & Teaching, Family, Growing Up & Facts of Life, Illustrated books, Literary Fiction, Literature & Fiction, Short Stories, Short Story Collections, Teens
Tags: Charlotte Bronte, Jane Eyre, Penguin Readers
Charlotte Brontë was a British novelist, the eldest out of the three famous Brontë sisters whose novels have become standards of English literature. (See also Emily Brontë and Anne Brontë).
Charlotte Brontë was born in Thornton, Yorkshire, England, the third of six children, to Patrick Brontë (formerly "Patrick Brunty"), an Irish Anglican clergyman, and his wife, Maria Branwell. In April 1820 the family moved a few miles to Haworth, a remote town on the Yorkshire moors, where Patrick had been appointed Perpetual Curate. This is where the Brontë children would spend most of their lives. Maria Branwell Brontë died from what was thought to be cancer on 15 September 1821, leaving five daughters and a son to the care of her spinster sister Elizabeth Branwell, who moved to Yorkshire to help the family.
In August 1824 Charlotte, along with her sisters Emily, Maria, and Elizabeth, was sent to the Clergy Daughters' School at Cowan Bridge in Lancashire, a new school for the daughters of poor clergyman (which she would describe as Lowood School in Jane Eyre). The school was a horrific experience for the girls and conditions were appalling. They were regularly deprived of food, beaten by teachers and humiliated for the slightest error. The school was unheated and the pupils slept two to a bed for warmth. Seven pupils died in a typhus epidemic that swept the school and all four of the Brontë girls became very ill - Maria and Elizabeth dying of tuberculosis in 1825. Her experiences at the school deeply affected Brontë - her health never recovered and she immortalised the cruel and brutal treatment in her novel, Jane Eyre. Following the tragedy, their father withdrew his daughters from the school.
At home in Haworth Parsonage, Charlotte and the other surviving children — Branwell, Emily, and Anne — continued their ad-hoc education. In 1826 her father returned home with a box of toy soldiers for Branwell. They would prove the catalyst for the sisters' extraordinary creative development as they immediately set to creating lives and characters for the soldiers, inventing a world for them which the siblings called 'Angria'. The siblings became addicted to writing, creating stories, poetry and plays. Brontë later said that the reason for this burst of creativity was that:
'We were wholly dependent on ourselves and each other, on books and study, for the enjoyments and occupations of life. The highest stimulus, as well as the liveliest pleasure we had known from childhood upwards, lay in attempts at literary composition.'
After her father began to suffer from a lung disorder, Charlotte was again sent to school to complete her education at Roe Head school in Mirfield from 1831 to 1832, where she met her lifelong friends and correspondents, Ellen Nussey and Mary Taylor. During this period (1833), she wrote her novella The Green Dwarf under the name of Wellesley. The school was extremely small with only ten pupils meaning the top floor was completely unused and believed to be supposedly haunted by the ghost of a young lady dressed in silk. This story fascinated Brontë and inspired the figure of Mrs Rochester in Jane Eyre.
Brontë left the school after a few years, however she swiftly returned in 1835 to take up a position as a teacher, and used her wages to pay for Emily and Anne to be taught at the school. However, teaching did not appeal to Brontë and in 1838 she left Roe Head to become a governess to the Sidgewick family - this was partly from a sense of adventure and a desire to see the world, and partly from financial necessity.
Charlotte became pregnant soon after her wedding, but her health declined rapidly and, according to Gaskell, she was attacked by "sensations of perpetual nausea and ever-recurring faintness." She died, with her unborn child, on 31 March 1855, aged 38.
Customers Also Bought These