You are previewing:

His Defiant Princess (Royal House of Saene #1)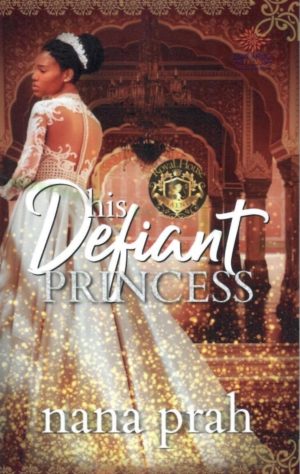 His Defiant Princess (Royal House of Saene #1)
His Defiant Princess (Royal House of Saene #1)
Princess Amira Saene has always done the right thing when it came to her beloved Kingdom of Bagumi. Yet her unorthodox online relationship with a man across the sea has derailed her from cultural norms. She doesn't care. After a year of communicating, the man she's developed feelings for comes to visit. Their chemistry is intense and she tumbles the rest of the way into love. With the threat of war looming over her country, Amira is thrown in the middle as a peacemaker through an arranged marriage.
Jake Pettersen never thought he'd meet the woman of his dreams, much less online. Flying thousands of miles to West Africa to meet her verifies that the feelings he's developed are real. Too bad her family doesn't think he's worthy of her. When he learns that Amira has been betrothed, he must decide whether fight for her or accept the loss for the sake of her homeland.
Is their happiness worth the devastation of her country?
Praise for Path to Passion
"Path to Passion is a journey with a bit of mystery and suspense, some snarky humor and smexy times all wrapped up in heartfelt romance. I highly recommend it. " Felicia Denise
"Exciting and captivating." Maya Love
Praise for A Perfect Caress
"Ms. Prah did a wonderful job bringing the atmosphere and ambience of Italy to life and I will admit they were among my favorite scenes in the book." — Debbie Christiana
"Sweet and fun and passionate." — Love Bites and Silk
Praise for the Destiny Series
"Incredibly addictive and soaring with heat." — Lucii Grubb
"Beautiful writing, fabulous character development, and hot and steamy love scenes! I love it!" — Stephanie Sakal
"Nana is entertaining and thought-provoking." — Diana Wilder
₵60.00
Only 1 left in stock
SKU:

BK2367
Categories: African Authors, Author Origin, Family Saga, Genre Fiction, Ghana, Historical Fiction, Interpersonal Relations, Literary Fiction, Literature & Fiction, Love & Romance, Marriage & Long-Term Relationships, Relationships
Tags: His Defiant Princess, Nana Prah, Royal House of Saene
Nana Prah first discovered romance in a book from her eight grade summer reading list and has been obsessed with it ever since. Her fascination with love inspired her to write in her favorite genre where happily-ever-after is the rule.
She is a published author of contemporary, multicultural romances. Her books are sweet with a touch of spice. When she's not writing she's over-indulging in chocolate, enjoying life with friends and family, and tormenting nursing students into being the best nurses the world has ever seen. Nana loves to connect with her readers on Twitter @Nana Prah and Facebook at Nana Prah, author.