You are previewing:

A Little Flame of Hope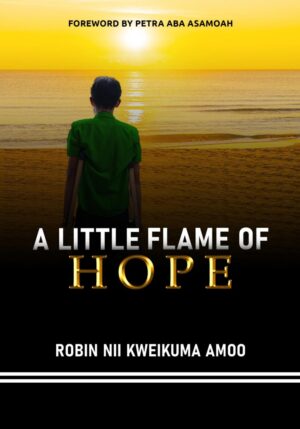 A Little Flame of Hope
Related Products
Customers Also Bought These
A Little Flame of Hope
A trail of unpleasant circumstances usher Ryan Hassan Asaba into the world. His resilient mother braces the tides and defies several odds to raise her disabled son. But when he needed her the most, she vanishes mysteriously. Now alone, Ryan is forced to navigate through the harsh realities of society. But an impending danger was fast approaching. Will his mother return to save him, or will the danger be potent enough to consume them both?
₵35.00
Available on backorder
SKU:

BK4795
Categories: African Authors, Author Origin, Contemporary Fiction, Family Life, Family Saga, Family Saga, Genre Fiction, Ghana, Literary Fiction, Literature & Fiction, Social & Family Issues, Young Adult Fiction
Tags: A Little Flame of Hope, Africa, Disability, Flame, Ghana, Hope, Resilience, Robin Nii Kweikuma Amoo, Success, Suspense
Robin Nii Kweikuma Amoo is a Bachelor of Arts student of the University of Ghana. He is a purpose-driven and committed man who believes strongly that we are the architects and designers of the outcomes of our lives. He is an avid reader, a writer and a poet. Robin has a blog where he shares his writings with the world and he has ministered poetry on a number of platforms. Robin Amoo is a Christian, and his core values are; Love, Integrity, Vision, Excellence and Service. The first letter of each of these values culminate to spell the word LIVES. This conveys the message that embedded in Robin's heart is an insatiable need to impact and bring a positive transformation to lives.
Customers Also Bought These