You are previewing:

Devotion for Entrepreneurs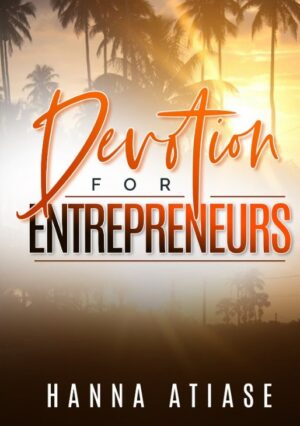 Devotion for Entrepreneurs
Devotion for Entrepreneurs
Devotion For Entrepreneurs is designed for individuals who are keen on doing business God's way. Entrepreneurship is about connecting your business to God's ultimate purpose and carrying the glory of God into the marketplace
Haggai 2:23 says: "I will take you…and will make you like a signet ring; for I have chosen you." Ancient kings used their signet ring to stamp documents as a form of their approved signature. In other words, Entrepreneurs are God's signature in the marketplace.
This devotion will help you understand your divine purpose as Christian Entrepreneurs.
You will be able to understand and apply the kingdom principles in the marketplace. As you spend time in this devotion during your covenant time, your mindset will be renewed to the word of God concerning the marketplace. As you meditate on the word you will have an encounter with Jesus the Business man, and receive divine instructions from God the CEO. As an entrepreneur you will be challenged to surrender your business to God. This means that you are no longer the CEO, you are the vice president . You are responsible for stewarding your business, but the business direction comes from God the CEO. Multimillion dollar ideas will be released from the Holy Spirit your senior partner. "He will teach you to profit" ( Isaiah 48:17). Through sweet fellowship with the Holy Spirit you will have a vivid understanding of the underlying mandate for your business. When you are able to connect your business to Gods ultimate purpose you will experience sustenance, profitability and increase etc.
Ultimately, it's about doing business God's way.
₵22.00
SKU:

BK3691
Categories: African Authors, Author Origin, Bible Study & Reference, Business Life, Business, Finance & Law, Christian Books & Bibles, Christian Living, Devotional, Ghana, Inspirational, Motivational & Self-Help, Religion & Spirituality, Self-Help, Small Business & Entrepreneurship, Social Issues
Tags: Africa, Devotion for Entrepreneurs, Ghana, Hanna Atiase, The Signet Hour Show
Hanna Atiase is the host of The Signet Hour Show. A broadcast geared towards empowering & equipping entrepreneurs through biblical teachings in the marketplace. The show airs in 48 countries in Africa, parts of Asia, Europe & the Americas. Hanna Atiase owns & operates several businesses. She is also the Founder & Pastor of Cross Covenant & Fire Ministries. A non denominational church based in East Legon. Accra, Ghana West Africa.
Customers Also Bought These