You are previewing:

Cosmic Realities (The ABCs of the Christian, Volume 2)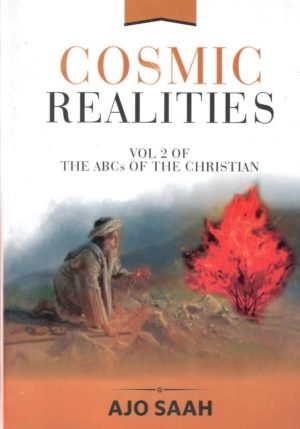 Cosmic Realities (The ABCs of the Christian, Volume 2)
Cosmic Realities (The ABCs of the Christian, Volume 2)
This is the second in the 6-part series called The ABCs of the Christian. This volume deals with the spiritual realities of this world.
Over the years, there has been an upsurge of interest in the supernatural all over the world. The people who indulge in this do not, however, realise the gravity and eternal consequences of such involvements. This book describes some of the key spiritual figures like God, Jesus Christ, Satan and some important concepts, beliefs and practices like Evil, Occultism and Idolatry, as well as how to overcome the effects of the corrupted world.
The book is written in clear easy step-by-step expositions to help the reader appreciate the state of the world as it really is.
The contents are carefully selected and traced to their Old Testament origins to bring out the full meaning and the message of the subject under discussion. The book also seeks to answer some questions frequently asked and clarify some confusing issues.
₵30.00
Out of stock
SKU:

BK2207
Categories: African Authors, African History, Author Origin, Christian Books & Bibles, Christian Living, Church History, Churches & Church Leadership, Devotional, Discipleship, Ghana, History, Religion & Spirituality, Social Issues, Theology, West African History
Tags: Ajo Saah, Christianity, Church history, Ghana, The ABCs of the Christian, Theology
Ajo Saah is the pen name of Mrs. Grace P. Nartey who holds a Bachelor of Arts (Hons. English) and a Master of Arts (African Studies) degrees, both from the University of Ghana, Legon.
She gave her life to Christ in the 1980s and became a fervent student of the Bible. Evangelical by profession and inter-denominational by preference, she believes strongly that all Christians should take Bible Studies seriously as it is a key discipline to our growth and transformation in the Lord.
Ajo Saah headed a public service organisation, been a full-time church adminstrator and served as the Registrar of the Akrofi-Christaller Institute of Theology, Mission and Culture (ACI).
She loves reading novels and Christian literature, and enjoys word games. Now retired, she lives in Tema, Ghana, and spends her time writing.