You are previewing:

MCQs on the Law of Tort: Test Your Knowledge of Tort Law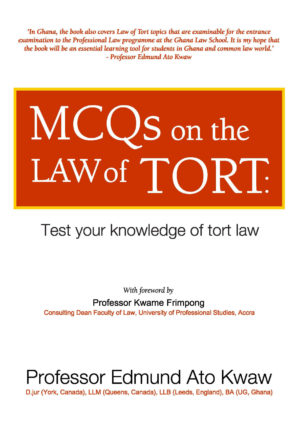 MCQs on the Law of Tort: Test Your Knowledge of Tort Law
MCQs on the Law of Tort: Test Your Knowledge of Tort Law
As Professor Kwame Frimpong notes in his foreword, questions in this book are practical, based on decided cases, as well as hypothetical issues and situations. The book is relevant for all common law faculties of law offering Bachelor of Laws (LL.B) programmes, and other institutions offering the Law of Torts to their students. The book is intended to be a supplement to the standard existing textbooks used by lecturers, and is intended to be a tutorial aid, to be used by lecturers in tutorials, and students in testing their knowledge on the topics covered during lectures. In Ghana, the book also covers Law of Tort topics that are examinable for the entrance examination to the Professional Law programme at the Ghana Law School. It is my hope that the book will be an essential learning tool for students in Ghana and common law world.
₵100.00
SKU:

BK3233
Categories: Administrative Law, African Authors, Author Origin, Business, Finance & Law, Ghana, Law, Law Enforcement, Law Textbooks, Tertiary Textbooks, Textbooks
Tags: Edmund Ato Kwaw, Ghana, Icon Publishing, Law, law of tort, MCQs, Multiple choice questions, Tertiary Textbook, Tertiary Textbooks, Textbook, Textbooks, Tort
Edmund Ato Kwaw is an Associate Professor of Law and the Head of the Department of Private Law at the Faculty of Law of the University of Professional Studies, Accra. He is also, currently, the Associate Director of the Ghana Institute of Advanced Legal Studies, Accra. Prior to his current position, Professor Kwaw was Dean of the Faculty of Law, Governance and International Relations at Kings University College, Accra, and the Vice-President of the University. Before that he was a visiting Associate Professor at the Faculty of Law at the University of Cape Coast. Prior to that he taught at several tertiary institutions in Ontario, Canada including, the Faculty of Law of Queens University, Kingston, Ontario; Osgoode Hall Law School of York University, Toronto, and the Faculty of Law of the University of Windsor.
Professor Kwaw received his Bachelor of Arts (Honours) Degree in Political Science with Philosophy from the University of Ghana in 1985 and a Bachelor of Laws (Honours) Degree from the University of Leeds in England, in 1987. He read for a Master of Laws degree at Queens University in Kingston, Ontario, Canada and obtained his LL.M in 1989. After that, he obtained his Doctorate in Law from Osgoode Hall Law School of York University in Toronto, Canada in 1993. Professor Kwaw currently teaches Jurisprudence, Law of Tort and International Trade and Investment Law at the Faculty of Law of the University of Professional Studies, Accra. His current research interests include Financial Regulation (domestic and international), Banking Law (domestic and international), and Children's Rights.