You are previewing:

Akaliza Goes into Space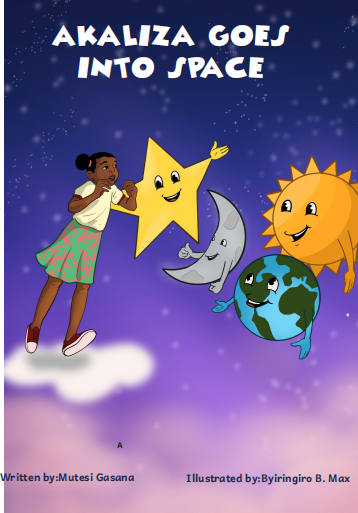 Akaliza Goes into Space
Akaliza Goes into Space
Age Range: 3 – 6  years
Akaliza Goes into Space by Mutesi Gasana is a storybook about a young girl who loved adventure and science. She dreamt of going to space and decided to work hard to become an Astronaut.
In the story, the Mtemi, the king of Kabende, a small country town along Lake Tanganyika, realizes that he has become too old to lead his people. One of his two sons will succeed him to the throne. But first the successor must pass the tests imposed by the customs and traditions of the Wabende people. The first-born son, Mosi, is a great fisherman, an excellent fighter but full of arrogant self-pride. The younger son, Sankuta, is also a great fighter, though quieter, more generous, and respectful of and respected by the big and the small people alike.
Which son will be considered to have the right qualities to become the new Mtemi and lead the people?
₵65.00
Out of stock
SKU:

BK6324
Categories: Activities, Crafts & Games, Activity book, African Authors, Age Range, Ages 3-5 years, Ages 6-8 years, Author Origin, Basic Concepts, Beginner Readers, Children & Teens, Early Childhood Education, Education & Teaching, Fairy Tales & Folklore, Illustrated books, Literature & Fiction, Pre-school, Rwanda, Size & Shape, Young Reader
Tags: Akaliza Goes into Space, Byiringiro B. Max, Children's books, Picture books, Ubuntu Publishers
Customers Also Bought These