You are previewing:

A Garland for the Soul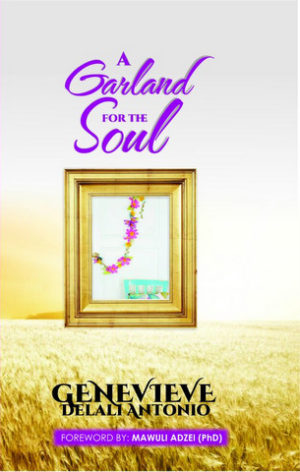 A Garland for the Soul
Related Products
Customers Also Bought These
A Garland for the Soul
Age: 13yrs and above 
Have your eyes traced words on a page somewhere and had an aha moment? You know, when your soul agrees to the truth of the words and it seems like a light bulb has suddenly been lighted in your mind. This book is a collection of 50 poems laden with verses that will speak to your soul. It is like reading your own thoughts to yourself. It yearns to speak courage, hope and love into the heart of the reader. It is designed to be your soul's companion bringing sunshine into your life during the darkest of days.
As you read these words you will be reminded that you are absolutely not alone, that you are not perfect but you are still loved with a fierce love by the ultimate Lover of your soul as He is making you whole. It is meant to be a beautiful garland for your soul.
₵25.00
Out of stock
SKU:

BK3522
Categories: African Authors, Author Origin, Ghana, Love & Loss, Motivational & Self-Help, Poetry, Relationships, Religion & Spirituality, Self-Help, Spoken Word, Young Adult Fiction
Tags: A Garland for the Soul, Genevieve Delali Antonio, Poems
Genevieve Delali Antonio finds writing as her escape and she loves to curl up with a good book. Like candies are to the sweet tooth of a child, reading the Word and good books is her soul's delight. She graduated with a B.A in English and Sociology from the University of Ghana. She loves acoustic folk worship music, soulful hymns and singing. She is a missionary and a teacher at heart.
Customers Also Bought These