You are previewing:

A Decade and a Score in London (Pre-Order)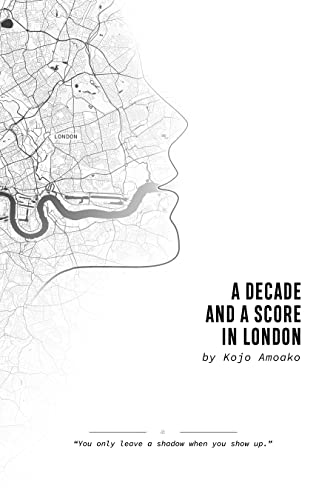 A Decade and a Score in London (Pre-Order)
| | |
| --- | --- |
| Weight | 0.450 kg |
| Format | Paperback |
| Pages | 176 |
| Year Published | 2023 |
| ISBN | 979-8373652032 |
| Author | Kojo Amoako |
Related Products
Customers Also Bought These
A Decade and a Score in London (Pre-Order)
215 years ago, the legislation to end Britain's involvement in slave trade was passed in both the Commons and the Lords. It eventually received the royal assent, and slave trade finally became illegal on 1 May 1807.
This was exciting for Africans. A miracle, even. Unfortunately, leadership on the continent by the very Africans who pled to lead their own people, made Kojo – the twentieth century-son of the land, desperately seek a glimpse of London's perfect system away from Ghana – a country once celebrated for being the first of the fifty-four, to gain independence from colonial rule.
A Decade and a Score in London is a semi-autobiography of the author, telling deep and almost horrifying experiences that shaped his life, or as he best puts it, that created a life that fits all shapes of storms.
Born in England and raised in Ghana, Kojo had a full experience of a picture-perfect family; from having breakfast as a family all dressed up with the typical English setting, to attending top schools with a designated driver. This was not atypical of a working-class family in Ghana. With father, an accountant, and mother, a nurse, both English-trained. Life was good. Really. Until one day, through no fault of his, hubris and bullets steered Kojo's life away from perfection. With a dead mom and a guilt-flooded dad suffering from mental health, Kojo had no one to turn to but his childhood friends; Harry and Creepy.
Coiled in a hole aboard a vessel headed Europe, Kojo could not risk giving up and being caught after successfully hiding for five days without stretching. From Greater Accra Region through Western Region of Ghana to Abidjan, Ivory Coast, and finally on his way to Europe – the dreamland. Kojo could not give up on his stow away attempt. He needed to make it, and he did… At the Colnbrook Immigration Removal Centre, located in Harmondsworth, in the London borough of Hillingdon.
His dreams of living in Europe almost shattered until his British birth certificate named him a subject of the Crown – an approved citizen of Her Majesty, the Queen of England. Now what? Entitled to citizenship and the world was his oyster. In his 30-year journey in London, Kojo went through the different facets of meeting women, finding love, experiencing faith, making a family, forming friendships, and trading drugs. He went through it all. Almost.
How does Kojo get his wife murdered, leaving his son and daughter motherless? Where is the happy ending of three decades in the dreamland he once yearned? Kojo's bop with fate in A Decade and a Score in London, brings together a world of wins and failures, horror and haven, and births a life where there is always a move to play on the big chess board of our world.
₵188.70
Out of stock
SKU:

BK6534
Categories: African Authors, African History, African Studies, Author Origin, Authors, Biographies & Memoirs, Essays & Correspondence, Ghana, History, Literature & Fiction, Politics & Social Sciences, Social Activists, Social Science, Sociology, Specific Demographics, West African History
Tags: A Decade and a Score in London, Kojo Amoako
| | |
| --- | --- |
| Weight | 0.450 kg |
| Format | Paperback |
| Pages | 176 |
| Year Published | 2023 |
| ISBN | 979-8373652032 |
| Author | Kojo Amoako |
Customers Also Bought These