You are previewing:

Waning Strength of Government: Essays on Nigerian Governance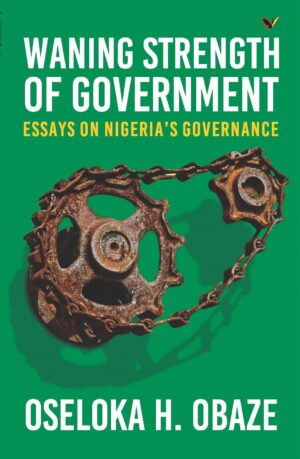 Waning Strength of Government: Essays on Nigerian Governance
Waning Strength of Government: Essays on Nigerian Governance
In Waning Strength of Government, Obaze draws on twenty-three of his various speeches, policy briefs, lectures and op-eds, to render exploratory essays that dissect some common patterns and trajectories that point anthetically to factors and conducts, which ought to constitute the strength of government, but don't.  In so doing, he unmasks the prevailing weaknesses and waning strength of government – the attendant consequences, and their prevalence and implications for Nigeria.
Such developments, with the attendant reversals, some nondescript and some dramatic, but replete with absence of resilience, leads the author to assert that democracy, "once characterized as probably the greatest expansion of freedom," has come under assault from within its ranks, as shifts in geopolitics combine with ascendancy of non-state actors to undercut democracy.  Cognizant of the suggestion that the democratic system as conceptualized, has not just worked as expected, but is rather dysfunctional, the author asserts that nowhere is this consideration more evident and concrete than in Africa, Nigeria included.
Waning Strength of Government piggybacks on the assertion that Nigeria's "democracy is in reverse gear" and "the story is that of regrets and missteps." Obaze employs an inquiry and excursion model using the flipside of McGeorge Bundy's 1968 seminal book, The Strength of Government, to analyze leadership, political and governance challenges that continue to dog Nigeria's nascent democracy.  The essays in this volume, which are clustered into four groupings; democratic imperatives; domestic development challenges; foreign policy dimensions and leadership and governance, explore some Strength, Weaknesses, Opportunities and Threats (SWOT), as well as general challenges and uncertain aspects of Nigeria's affected democracy.
In this very important work on Nigerian contemporary politics, leadership and dilemmas confronting the nation, the point is made severally, and vehemently too, that the strength of government is not about military capacity or use of force; but about the upholding the rule of law, consolidating democratic institutions and entrenching the social contract between the government and the governed.
₵75.00
Only 1 left in stock
SKU:

BK4783
Categories: Academic papers, African Authors, Author Origin, Education & Teaching, Government, Historical Study & Educational Resources, Nigeria, Political, Politics & Government, Politics & Social Sciences, Politics & State, Reference, Research & Publishing Guides, Social Science
Tags: Oseloka H. Obaze, Waning Strength of Government: Essays on Nigerian Governance
Oseloka H. OBAZE served as the 9th Secretary to the Anambra State Government (SSG) from 29th June 2012 to 8th June, 2015. A former Nigerian Foreign Service Officer and United Nations official, Mr. Obaze is a diplomat, strategic policy adviser, writer, public speaker and seasoned administrator. He joined the Anambra State Government in June 2012 on the invitation of Gov. Peter Obi and in March 2014, Gov. Willie Obiano reappointed him to the office of the SSG.
Customers Also Bought These