You are previewing:

The Marriage Vows: What Are We Getting Into Here?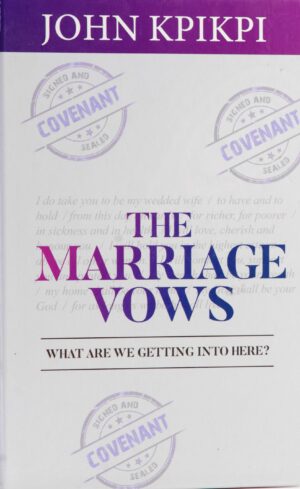 The Marriage Vows: What Are We Getting Into Here?
The Marriage Vows: What Are We Getting Into Here?
In this thought-provoking book, Dr John Kpikpi opens up the subject of vows. What are vows and what is the significance of their inclusion in Christian wedding ceremonies? Starting from Scripture, Dr John Kpikpi shows the sacred nature and importance of marriage vows. He makes a strong case that, given the weight and gravity of a vow, every person should be given the opportunity to learn about vows- well before they arrive at the point of actually making one.
As you read through this fast-paced book, prepare to be challenged to revise your views about the marriage vows and the covenants they bring about. You will also find very useful counsel on choosing the right location for a marriage ceremony and whether it is appropriate to write one's own vows.
Dr John Kpikpi is an Apostle of the Lord Jesus Christ based in City of God Church, Accra. Dr Kpikpi provides oversight for churches under the Rebuilding the Nations Foundation.
Using television and online channels, Dr John Kpikpi serves the nations with the Word of God, helping people to build holy, happy and prosperous lives and nations.
Dr John Kpikpi has taught on marriage and family life internationally. He is also the author of other titles on marriage, such as the much-acclaimed book "The Marriage House" and the practical manual "Prepare".
A family man himself, Dr Kpikpi has been married for over three decades to his beautiful wife, Alexandra and they have five grown up children.