You are previewing:

The Marriage House: God's Blueprint for a Secure and Happy Marriage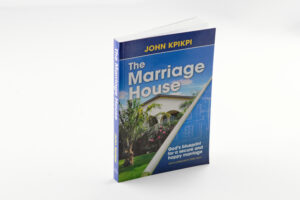 The Marriage House: God's Blueprint for a Secure and Happy Marriage
The Marriage House: God's Blueprint for a Secure and Happy Marriage
The Marriage House covers love, sex, culture, God, money, work and conflict and is a definitive resource on how to build a happy and secure marriage. Taking a comprehensive and scripture-based approach, weighty matters are tackled in an easy-to-read style, lightly peppered with humor. The chapters are packed full of practical advice, personal experience, radical suggestions and helpful stories.
The Marriage house reveals God's blueprint for marriage, making it a must-read for men and women of all ages. Whether you are married, preparing for marriage, searching for a spouse or a supporter of marriage, this powerful book will unlock the secrets of a successful "Marriage House".
₵75.00
SKU:

BK4601
Categories: African Authors, Author Origin, Genre Fiction, Ghana, Interpersonal Relations, Marriage & Long-Term Relationships, Relationships, Religious & Inspirational
Tags: Family Life, Ghana, John Kpikpi, Marriage, Relationships, The Marriage House, The Marriage House: God's blueprint for a secure and happy marriage
Dr John Kpikpi is an Apostle of the Lord Jesus Christ based in City of God Church, Accra. Dr Kpikpi provides oversight for churches under the Rebuilding the Nations Foundation.
Using television and online channels, Dr John Kpikpi serves the nations with the Word of God, helping people to build holy, happy and prosperous lives and nations.
Dr John Kpikpi has taught on marriage and family life internationally. He is also the author of other titles on marriage, such as the much-acclaimed book "The Marriage House" and the practical manual "Prepare".
A family man himself, Dr Kpikpi has been married for over three decades to his beautiful wife, Alexandra and they have five grown up children.