You are previewing:

Secret at Mystic Lake (Nancy Drew Diaries, #6)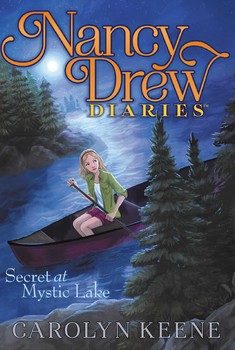 Secret at Mystic Lake (Nancy Drew Diaries, #6)
Secret at Mystic Lake (Nancy Drew Diaries, #6)
Age Range: 8 – 12 years
A few nights in nature take a nasty turn for Nancy and her friends in this sixth book of the Nancy Drew Diaries, a fresh approach to a classic series.
To celebrate her birthday, George is taking Nancy and Bess on a three-day bike tour around the scenic Mystic Lake. They can't wait to spend time exploring the gorgeous landscape by day and camping under the stars at night. What they didn't count on was sabotage!
First someone steals food and supplies from their packs. Then tour guide Caitlin vanishes overnight, and the entire group finds their tires slashed to bits. Now Nancy is cycling for clues instead of soaking up the scenery. Can Nancy track down the culprit before she and her friends are lost in the woods forever?
₵35.00
Out of stock
SKU:

BK4838
Categories: 9-12 years, Action & Adventure, Age Range, Ages 6-8 years, Author Origin, Book Sets, Children & Teens, Children Classics, Illustrated books, Literary Fiction, Literature & Fiction, Mysteries & Detective Stories, Teens, US/Canadian Authors, Young Reader
Tags: Carolyn Keene, Nancy Drew, Secret at Mystic Lake (Nancy Drew Diaries
Carolyn Keene is a pen name used by a variety of authors for the classic Nancy Drew Mystery series. The first author to use the pseudonym was Mildred Wirt Benson, who wrote 23 of the original 30 books. Other writers who have adapted the "Carolyn Keene" moniker include Leslie McFarlane, James Duncan Lawrence, Walter Karig, and Nancy Axelrod.
Customers Also Bought These