You are previewing:

Pilgrims of the Night: Development Challenges and Opportunities in Africa (Hardcover)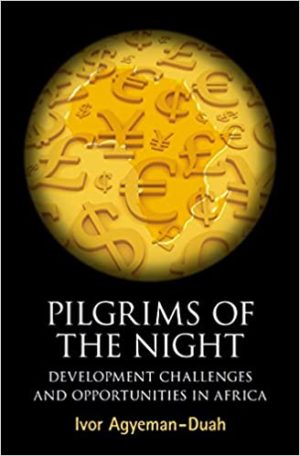 Pilgrims of the Night: Development Challenges and Opportunities in Africa (Hardcover)
Pilgrims of the Night: Development Challenges and Opportunities in Africa (Hardcover)
Africa's development process has and continues to be like walking through a thick forest made obscure by institutional weakness, social challenges and capacity gaps. Sustainable development should be in the hands of Africans and outside support as a critical compliment. Getting the navigation right is paramount in the face of emerging challenges so well covered in this undoubtedly important and highly recommended book. The authors argue that Africa must control its own precious natural resources, reform its government institutions, modify its trade and economic relations and form new relationships with emerging economies in order to improve conditions on the continent.
₵80.00
Only 1 left in stock
SKU:

BK3602
Categories: Academic papers, African Authors, African Biographies, Author Origin, Biographies & Memoirs, Civil Liberties & Political Activism, Development & Growth, Economic Policy & Development, Economics, Education & Teaching, Ghana, Globalization, Historical, History, International Economics, Labor & Industrial Relations, Politicians, Politics & Government, Politics & Social Sciences, Science & Math
Tags: Ayebia Clarke Publishing, Ivor Agyeman-Duah, Pilgrims of the Night: Development Challenges and Opportunities in Africa
Ivor AGYEMAN-DUAH is a development specialist and former special advisor on international development cooperation to the Ghanaian President, John Agyekum Kufuor. He is a visiting Associate Professor at the University of Johannesburg and author and co-editor of, Pilgrims of the Night: Development Challenges and Opportunities in Africa, Africa – A Miner's Canary into the Twenty-First Century – Essays on Economic Governance and An Economic History of Ghana- Half a Century of Challenges and Progress.
Agyeman-Duah serves as Chair of the Advisory Board of the Heritage and Cultural Society of Africa and is a Member of the International Advisory Board of the University of Oxford's African Studies Centre.
He has served as visiting Research Fellow at the Exeter College of the University of Oxford and the Hutchins Institute at Harvard University. He holds graduate degrees from the London School of Economics, the School of Oriental and African Studies, London and the University of Wales.
Customers Also Bought These