You are previewing:

Ola & Bisi: Adventures of Health – Parents Guide to Healthy Eating & Activities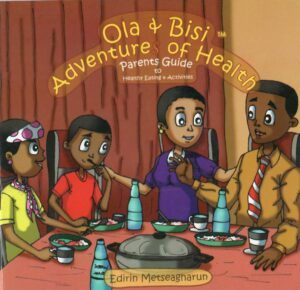 Ola & Bisi: Adventures of Health – Parents Guide to Healthy Eating & Activities
Ola & Bisi: Adventures of Health – Parents Guide to Healthy Eating & Activities
Age Range: 6+ years
Ola and Bisi Adventures of Health(Parents guide to Healthy Eating & Activities)  is a guide to help parents put the Books 1 and 2 of Ola & Bisi Adventures of Health to great use for the benefit of the whole family. It is recommended to read this book along with both books.
In this book you will learn about:
How to know if your child has a weight problem
How to provide healthy balanced diet for your child
What you can do to make eating out with the family healthy
How to ensure smart snacking for your child
How to support your child to be active
Edirin Metseagharun is a teacher, public speaker and a counselor with a strong passion for children's health and fitness. She is a certified health coach and has a degree in Educational Management with a bias for Primary Education. She also has a certificate in Diet, Nutrition and Exercise.
She is the founder and coordinator of Passion for Healthy Kids Initiative (PHKI), a non-governmental organisation that addresses childhood undernourishment, obesity prevention and helping children to eat right and be active every day.
Customers Also Bought These