You are previewing:

Nana Otuo Siriboe II, 1971-2021: Fifty Years of Distinguished Service to Juaben, Asanteman and Ghana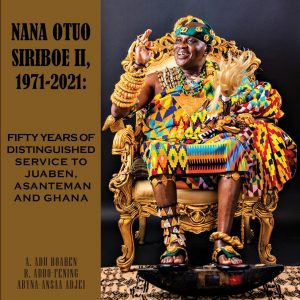 Nana Otuo Siriboe II, 1971-2021: Fifty Years of Distinguished Service to Juaben, Asanteman and Ghana
Related Products
Customers Also Bought These
Nana Otuo Siriboe II, 1971-2021: Fifty Years of Distinguished Service to Juaben, Asanteman and Ghana
Foreword by President Nana Akufo-Addo
Nana Otuo Siriboe II was enstooled as Juabenhene – Paramount Chief of the Juaben Traditional Area of Asante − on August 31 1971, at the age of 26. An electrical engineer by training, he decided to leave the employ of the Electricity Corporation of Ghana and make the development of his State a priority.
Fifty years on, from the days of Dr. K.A. Busia, Acheampong, Akuffo, Rawlings, Limann, Rawlings, Kufuor, Mills, Mahama to Akufo-Addo in 2021, he has transformed Juaben into a modern town. He uses every opportunity that he has to advance the cause of Juaben. Every development agency that has ever dealt with Nana Otuo Siriboe has been persuaded to leave a mark in Juaben. Under his supervision and guidance, Juaben has benefitted from electricity, potable water, a market, hospital, police station, some bungalows for the police, a circuit court, an asphalted road network, street lighting and other modern amenities.
He has also changed the economic circumstances of his people by not only establishing a rural bank, but also making farming attractive through his own oil palm farming activities and his setting up of Juaben Oil Mills, the largest indigenously-owned palm oil processing facility in Ghana, with over 400 employees. An interesting feature of the processing plant is the conversion of its waste materials into electricity to power the factory's plant and equipment, the Juaben Hospital and the town's water pumping station.
In spite of this unparalleled service to his people, Nana Otuo Siriboe has stretched his influence way beyond Juaben. A trusted lieutenant of both Otumfuo Opoku Ware II of blessed memory and the reigning Asantehene, Otumfuo Osei Tutu II, today Nana Otuo Siriboe II is a well-known and respected statesman across Ghana. He has had the privilege of serving in many sectors of public life in Ghana. In 1979, he was a Member of the Constituent Assembly that drafted the 1979 Constitution. Nana Otuo Siriboe II has also served on several Boards and Councils such as the Boards of the Lands' Commission, GBC, The Trade Fair Authority and The Komfo Anokye Hospital and on the KNUST University and the Prisons Service Councils.
In 1992, he was thrust further into the limelight when, as a nominee of the Ashanti Regional House of Chiefs, he became a Member of the Consultative Assembly, serving as the Chairman of the Business Committee, that spearheaded the drafting of the 1992 Constitution. He was a Member of the Council of State between 2001 until 2008 under President J.A. Kufuor. In 2017, he was appointed a Member of the Council of State by President Nana Addo Dankwa Akufo-Addo and was unanimously elected as Chairman of the Council of State becoming the first traditional ruler in Ghana's history to occupy that august position. Reappointed to the Council of State in 2021 and re-elected as Chairman, he has also become the first Ghanaian in history to be a two-term chairperson of the Council of State.
This 308-page Golden Jubilee coffee table book chronicles the major milestones of Nana Otuo Siriboe II's reign through captivating photographs, interesting newspaper clippings, and thought-provoking newspaper editorials; and has travelled through a 25-year journey to get to this point.
The History of Juaben was authored by Emeritus Professor Albert Adu Boahen of blessed memory and the Juabenhene's biography and key achievements by Professor Robert Addo-Fening for the 25th and 40th anniversary brochures respectively. Abyna-Ansaa Adjei, on her part, documents Nana Otuo Siriboe II's activities of the past 10 years, his views on his 50-year reign as well as the views of some Juaben citizens.
A simple read, it comes highly recommended with a goodwill message from the Asantehene, Otumfuo Osei Tutu II and a foreword by President Nana Akufo-Addo, which states at its conclusion: "I recommend, most enthusiastically, this beautiful book that chronicles these events."
₵300.00
Only 1 left in stock (can be backordered)
SKU:

BK1864-1
Categories: African Authors, African Biographies, Arts & Photography, Author Origin, Biographies & Memoirs, Coffee Table Book, Crafts, Hobbies & Home, Ghana, Historical, Leaders & Notable People, Photo Books, Photojournalism & Essays, Traditional Rulers
Tags: Abyna-Ansaa Adjei, Albert Adu Boahen, Asanteman and Ghana, Nana Otuo Siriboe II - 1971-2021: Fifty Years of Distinguished Service to Juaben, Robert Addo-Fening
Abyna-Ansaa Adjei graduated with First Class Honours in Publishing from the Kwame Nkrumah University of Science and Technology, Kumasi, Ghana in 2000. In 2004, she graduated from the London School of Economics and Political Science with a Master of Science degree in Voluntary Sector Organisation.
Abyna-Ansaa reads voraciously and loves to globe-trot.
Books written by Abyna-Ansaa Adjei Otumfuo Osei Tutu II: King of Gold, Grandma's story: Ghana is 50, Things every child of Ghana should know – J.B Danquah and Ghana: The story so far.
Robert Addo-Fening was born at Osino on 7 March 1935 and educated at Presbyterian Schools at Osino and Akyem Asafo (1941-49), Accra Academy (1950-53), and the Kumasi College of Technology where he was trained as a teacher (1954-55). After nearly 4 years of Elementary school teaching, he entered the University of Ghana in October 1959 and graduated in June 1963 with a BA Honours degree in Modern History. From September 1963 to May 1965 he was a History Tutor at Ofori Panin Secondary School, New Tafo. He earned his M.A. degree at the Australian National University in 1967 and was appointed Lecturer at the Department of History, Legon in October of the same year. He studied part-time at the same University for his PhD, which he completed in 1980.
Addo-Fening retired in 1995, having taught several generations of History students at the University of Ghana, Legon. He continued to hold yearly post-retirement appointments at the Department for another 17 years. Academic positions he held overseas included Fullbright Scholar, University of California at San Diego (1977-78); Fullbright-Hays Scholar-in-Residence, North Carolina A & T State University at Greensboro (1992-93); and a two-week Lectureship at Norwegian University of Science and Technology, Trondheim (1995). He has several publications to his credit including six books, two of which he authored with other scholars.
Customers Also Bought These