You are previewing:

Abla Poku – The Baoulé Queen (Hardcover)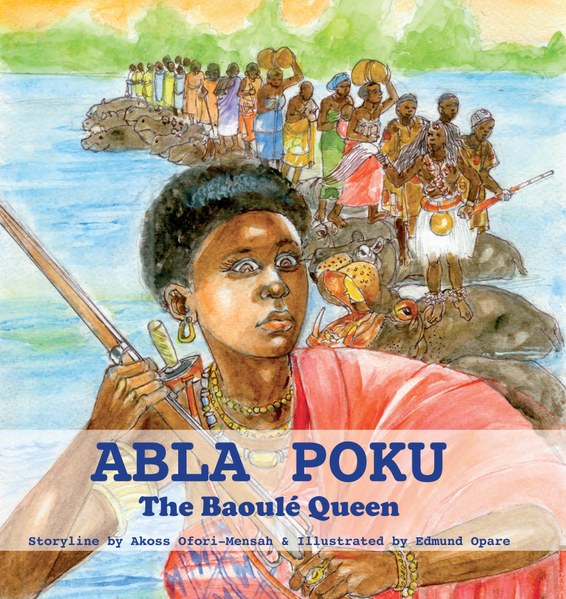 Abla Poku – The Baoulé Queen (Hardcover)
Abla Poku – The Baoulé Queen (Hardcover)
Age Range: 7 – 10 years
This colour illustrated children's book tells the story of Abena Poku. Once upon a time, there was a mighty kingdom in the central part of ancient Ghana known as the Asante Kingdom. It had a powerful king known as Otumfuo Osei Tutu I, the Asantehene. Osei Tutu I had a niece called Abena Poku.
After some unrest Abena Poku and her people settled in the area between the Comoe and Bandama rivers in the eastern part of the Ivory Coast and founded a kingdom of their own with Abena Poku as the first queen. Her kingdom became known as the Baoulé Kingdom. Abena Poku thus founded a dynasty which has survived to date.
₵66.00
Only 1 left in stock (can be backordered)
SKU:

BK1089
Categories: Action & Adventure, African Authors, Author Origin, Award Winners, Children & Teens, Fairy Tales & Folklore, Ghana, Illustrated books, Literature & Fiction
Tags: Abla Poku - The Baoulé Queen, Akoss Ofori-Mensah, Asante, Ashanti, Edmund Opare
Akoss Ofori-Mensah received her BA Honours Degree in English from the University of Ghana. She taught English at Aburi Girls Secondary School for two years and then went to Nottingham University in the UK for a Post Graduate Diploma in English. In 1974, she received an internship at the United Nations Fund For Population Activities in New York for six months and then went on to study a Master's Degree in Population Education at the University of Chicago, IL.
She returned to Ghana in 1976 and worked with Afram Publications as a Managing Editor. She left Afram in 1978 and joined the Halko Group of Companies, where she rose to become the Managing Director of the Group.
In 1993, Akoss started her own publishing house – Sub-Saharan Publishers for children's books. Akoss has served on the Ghana Book Publishers Association as the Honorary Secretary and Vice President. She was elected President of the Association from 2003-2005. She has been a member of The African Publishers Network (APNET) and is part of African Books Collective's council of management.
Edmund Opare is one of the most renowned and experienced illustrators in Ghana. With a degree in Graphic Design from the Kwame Nkrumah University of Science and Technology he has spent his entire life as a full time illustrator. He has worked with a lot of reputable organisations as a freelance illustrator in Ghana and parts of West Africa. He lives in Accra with his family and enjoys painting with watercolour.