You are previewing:

In the Name of Our Father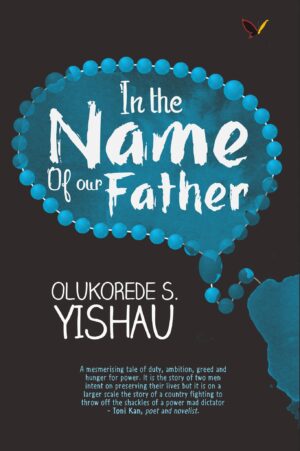 In the Name of Our Father
Related Products
Customers Also Bought These
In the Name of Our Father
Two men.
One dictator.
A country in turmoil.
Into this mix is thrown a new novel that threatens to expose the rotten underbelly of "a man of God" who has not only bewitched his flock but has sunk is fangs into the head of state.
In his debut novel, In The Name of Our Father, award winning journalist Olukorede Yishau weaves a mesmerising tale of duty, ambition, greed and hunger for power. It is the story of two men intent on preserving their lives but it is on a larger scale the story of a country fighting to throw off the shackles of a power mad dictator.
– Toni Kan, poet and novelist.
₵70.00
Only 1 left in stock
Olukorede Sadiq Yishau is an Associate Editor with The Nation, a Lagos, Nigeria based newspaper, where he has worked for over a decade.
Yishau, who earlier worked as a journalist with The Source and TELL magazines, was in 2015 declared Columnist of the Year at the prestigious Nigeria Media Merit Awards (NMMA). That night he was also crowned NMMA Entertainment Reporter of the Year.
Yishau, a graduate of Mass Communication from the Ambrose Alli University, Ekpoma, also has in his kitty honours, such as : NMMA Capital Market Reporter of the Year (2013), NMMA Aviation Industry Reporter of the Year (2003), Finalist, Union Bank's Banking and Finance Reporter of the Year (2003), Finalist, Olu Aboderin Entertainment Reporter of the Year (2001), Finalist, Print Journalist of the Year (2005), and Finalist, Political Reporter of the Year (2006).
His poems were published in an anthology of poetry ACTIVISTS POETS edited by Tunde Oladunjoye in the late 90s. He writes a column ABOVE WHISPERS in The Nation every Friday.
In the Name of Our Father is his debut. He is concluding work on his second novel Like Someone Skating on Thin Ice.
Customers Also Bought These