You are previewing:

Idia of the Benin Kingdom (Our Ancestories)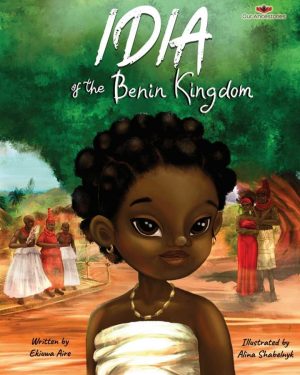 Idia of the Benin Kingdom (Our Ancestories)
Idia of the Benin Kingdom (Our Ancestories)
Age Range: 4 – 12 years
Children's Africana Book Awards (CABA) – 2021 Winner – Best Books for Young Children
Wishing Shelf Book Award – 2020 Finalist
Kidsshelf Book Cover Award -2020 Winner
Eric Hoffer Award – Honourable Mention (Children's Category) First Horizon Finalist Grand Prize Short List
"She became a queen, a warrior, the first woman to fight for the kingdom, and the first Iyoba (Queen Mother) of Benin."
What do you know about African History?
African history spans thousands of years, has been moulded by many intelligent artists, scientists, and thinkers, and is bound to fascinate you.
Explore the history of Africa in a way that will be more memorable and enjoyable than what you get from traditional textbooks.
Idia of the Benin Kingdomis an empowering children's picture book (loved by kids ages 4-12) that takes readers on a beautifully illustrated journey to the 1500s in ancient Africa. Readers are captivated as they watch Idia transform herself from the young and curious daughter of a village warrior to becoming the Queen of the Kingdom of Benin.
Idia was an actual queen who helped rule the ancient kingdom of Benin with her wisdom, charisma, and prowess. Much has been written about her bravery, and artefacts in her image are treasured in museums all over the world.
This book imagines what her childhood may have been like, and shares the story of this well-loved and successful African queen in a way that is relatable to young readers.
₵45.00
Only 1 left in stock (can be backordered)
SKU:

BK5134
Categories: 9-12 years, African Authors, Age Range, Ages 3-5 years, Ages 6-8 years, Author Origin, Biographies, Biographies & Memoirs, Children & Teens, Family Saga, Illustrated books, Leaders & Notable People, Literary Fiction, Literature & Fiction, Nigeria, Traditional Rulers, Young Adult Fiction
Tags: Alina Shabelynk, Ekiuwa Aire, Idia of the Benin Kingdom, Our Ancestories
Ekiuwa Aire was born and raised in Benin City, Edo, Nigeria. Ekiuwa's passion for African history emerged when she left Nigeria for Canada in 2007. When she became a mother, Ekiuwa realized that there were not a lot of resources to introduce African history to her young children. She wanted her kids (and other kids) to develop an appreciation for African history and to value the wisdom and pride that will come from this knowledge. This desire spurred her to write her first picture book about Queen Idia, Idia of the Benin Kingdom.
Customers Also Bought These