You are previewing:

Njinga of Ndongo and Matamba (Our Ancestories)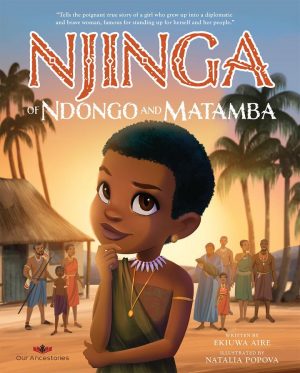 Njinga of Ndongo and Matamba (Our Ancestories)
Related Products
Customers Also Bought These
Njinga of Ndongo and Matamba (Our Ancestories)
Age Range: 4 – 12 years
Njinga of Ndongo and Matamba is the true story of a girl who had a difficult birth but went on to become the Queen of two ancient African kingdoms.
Revered for her wisdom, courage, and strength, Njinga became a dominant political figure in Angola in the 1600s. This richly illustrated children's book tells her story and the challenges she faced from the day she was born. Njinga must overcome the jealousy of her brother, the loss of her father, and the encroachment of the Portuguese at the dawn of a time of great trial for the African continent.
This is the story of hope and courage that shows every young girl is capable of greatness..
★ The Story of an Actual Legendary Queen

Queen Njinga is remembered for defying the odds and standing up for herself and her people.
★ A Narrative That Empowers and Motivates

Njinga's story is inspiring because she is an outstanding example of female governance in the history of Africa.
★ An Author with Passion for African History
Born and raised in Nigeria, Ekiuwa Aire hopes that her books on African history will instill pride and acceptance in young minds about diverse cultures.
★ Beautiful, Vibrant Illustrations
Natalia Popova studied at Moscow State University where her interest in visual arts and illustration was born.
★ Exciting Historical Facts
Based on true events in Angola in the 1600s, the story of Queen Njinga is beautifully illustrated and presented in a way every child will enjoy and learn from. The book also includes a brief history of the Kingdoms of Ndongo and Matamba, where they were located on a map, as well as information on Queen Njinga's legacy.
₵45.00
Only 1 left in stock (can be backordered)
SKU:

BK5135
Categories: 9-12 years, African Authors, African History, Age Range, Ages 3-5 years, Ages 6-8 years, Author Origin, Biographies, Biographies & Memoirs, Children & Teens, Family Saga, History, Illustrated books, Leaders & Notable People, Literary Fiction, Literature & Fiction, Nigeria, Traditional Rulers, West African History, Young Adult Fiction
Tags: Ekiuwa Aire, Natalia Popova(Illustrator), Njinga of Ndongo and Matamba, Our Ancestories
Ekiuwa Aire was born and raised in Benin City, Edo, Nigeria. Ekiuwa's passion for African history emerged when she left Nigeria for Canada in 2007. When she became a mother, Ekiuwa realized that there were not a lot of resources to introduce African history to her young children. She wanted her kids (and other kids) to develop an appreciation for African history and to value the wisdom and pride that will come from this knowledge. This desire spurred her to write her first picture book about Queen Idia, Idia of the Benin Kingdom.
Natalia Popova studied at Moscow State University where her interest in visual arts and illustration was born.
Customers Also Bought These