You are previewing:

Fixing Ghana: Removing The Brakes To Progress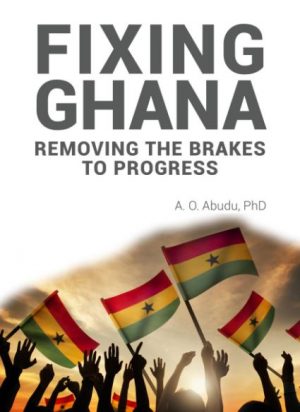 Fixing Ghana: Removing The Brakes To Progress
Fixing Ghana: Removing The Brakes To Progress
Using his home country, Ghana, only as an example of decades of economic and social conditions coasting in reverse gear in most of Sub-Saharan Africa, the author has two objectives. One of these presents reasons that cannot be denied for Africa's present man-made degenerating conditions that our governments sustain by default or even by drift. However, most of this book focuses on practical and feasible remedies directed at the root causes of Africa's conditions of mass poverty in the midst of potential plenty.
The solutions in this book offer a true paradigm shift away from decades of incoherent systems of economic and social management that lack focus.
The author then presents several innovative strategies that include:
(a) enhancing genuine citizen participation as shareholders in an enterprise called Ghana Ltd;
(b) infusing transparently applied merit into public sector appointments and enabling employees to be more efficient and less corrupt;
(c) a total overhaul of Ghana's current system of formal education that functions as a silent and highly powerful weapon of mass destruction;
(d) injecting gender balance into all elective political offices;
(e) creating level playing fields and drastically reducing the costs for all candidates that run for elective political office;
(f) injecting a bit more of consensual decision-making into the prevailing winner-takes-all nature of political processes that severely polarize the population; and
(g) extending democracy beyond elections.
₵75.00
Only 2 left in stock (can be backordered)
SKU:

BK352
Categories: African Authors, African History, African Politics, Author Origin, Business, Finance & Law, Development Studies, Ghana, History, International & World Politics, Management & Leadership, Nation building, Politics & Government, Politics & Social Sciences, Politics & State, Public Administration, Social Science, West African History
Tags: A.O. Abudu, Corruption, Fix the Country, Fixing Ghana, Fixing Ghana: Removing The Brakes To Progress, Ghana, Politics, Public Administration
This Ghanaian obtained his B.A. cum laude in economics and political science from the University of Minnesota, USA, M.A. in economics from Indiana University, USA, and Ph. D. in the same subject from the University of California, Los Angeles (UCLA), USA. His professional experience has been wide and varied. He has taught economics at American universities that include UCLA, the California State University (Long Beach), the California State University (Northridge) and the University of Hawaii, Honolulu.
He has worked for over twelve years to improve living conditions in his native country, Ghana, for which he received one of the nation's highest awards, the Grand Medal, Order of the Volta (Civil division). He has participated in several international seminars and conferences.
After a dozen years as a director in an international development bank based in the Middle East, he returned home into retirement. He has since authored many critically acclaimed books.
Dr. Abudu has pursued several intellectual or knowledge-based hobbies to the extent of being an authority on quite a few of them. He himself is a living example of the talks on healthy living that he presents on radio and to live audiences at various institutions.
Customers Also Bought These