You are previewing:

Fair State Charter For Africa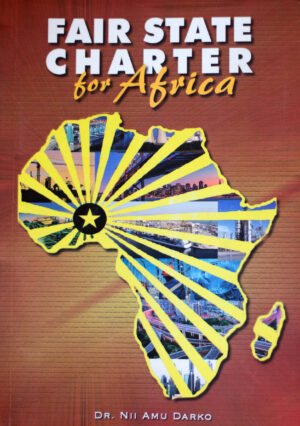 Fair State Charter For Africa
Fair State Charter For Africa
In this book, Dr. Nii Amu Darko outlines a new charter for a fair state as the template for good governance in Africa.  In a fair state, opportunities are fairly spread across the nation; political power is proportional to electoral mandates and fairly distributed among the groups that form the nation; and responsibility for service delivery is the duty of every citizen. England gave the world the Magna Carta and Dr. Nii Amu Darko proposes the Fair State Charter as the foundation for good governance and prosperity in Africa. The charter addresses three main areas:  Unity of purpose; unity of governance through a reformed electoral system and national governance; and the 21st Century being Africa's century of prominence. The unities he prescribes are on a national rather than a continental basis. So that the success of one country based on the ideas in the charter, can be replicated in other nations throughout the continent.
₵70.00
SKU:

BK4686
Categories: African Authors, African Politics, Author Origin, Civil Liberties & Political Activism, Civilization & Culture, Ghana, International & World Politics, Nation building, Politics & Government, Politics & Social Sciences, Politics & State, World
Tags: Fair State Charter For Africa, Ghana, Governance, Government, Nii Amu Darko, Politics
Dr. Nii Amu Darko is a physician by profession and a politician by calling. Born in Osu in 1966, he attended Ghanata, Presec and Korle-bu Teaching Hospital before leaving for South Africa in 1995 for 5 years where he worked as a physician. He subsequently moved to Australia where he currently resides and practices medicine. He founded the Gannawarra Family Clinic and serves as Consultant to several district hospitals in Australia. His exposure to the political systems in South Africa and Australia helped shape his political outlook, leading him to conclude that federalism in Ghana was the best way forward. He devised a new socio-political system called Afremocracy which is rooted in the African principle of "I am because we are". In his quest to promote good governance in Ghana, he founded the African Reform Movement (ARM), a political movement to mobilize for change.
Customers Also Bought These