You are previewing:

Disastrous Inferno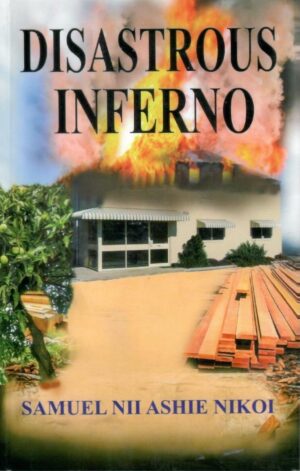 Disastrous Inferno
Related Products
Customers Also Bought These
Disastrous Inferno
Age Range: 9+ years
Fire devastates a portion of a wood processing factory located at the outskirts of Sako, a semi-prosperous city in the West.
Kweku Minkah Eshun, the MD of the logging and wood processing company is faced with a dilemma: the company has to pay off an outstanding bank loan or face legal proceedings and at the same time, re-construct the destroyed building for business to thrive. In order to do these objectives, he decides to source for extra money through the back door insider trading, smuggling machine and currency trafficking.
Aside his business problems is the fact that Kweku has been married to his beautiful wife Afia for three years without a child – "enter" a gynaecologist, a pastor and a herbalist.
How will it all end?
₵25.00
Only 1 left in stock (can be backordered)
SKU:

BK4156
Categories: 9-12 years, Action & Adventure, Action & Adventure, African Authors, Age Range, Author Origin, Children & Teens, Genre Fiction, Ghana, Literary Fiction, Literature & Fiction, Teens, Young Adult Fiction
Tags: Disastrous Inferno, Samuel Nii Ashie Nikoi
Samuel Nikoi is a certified economist. Samuel attended Labone Secondary School in Accra. He continued his education at Kwame Nkrumah University of Science and Technology in Kumasi, where he obtained a BA degree in Social Sciences with specialization in economics and sociology.
Samuel has been an entrepreneur for several years. He has special interests in project management, entrepreneurship, education and research.
His four other novels are: Deviant Boy, Deadly Encroachers, Disastrous Inferno and Vital Evidence.
Customers Also Bought These