You are previewing:

Deviant Girl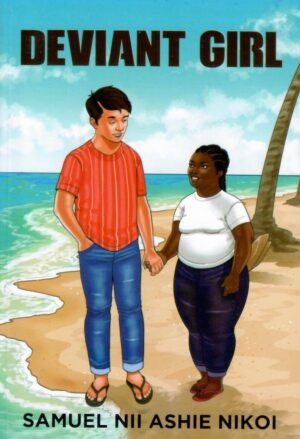 Deviant Girl
Related Products
Customers Also Bought These
Deviant Girl
Age Range: 9+ years
Sixteen-year-old Okaikor is a school drop-out. She decides to pursue a career in canoe sea fishing.
Okaikor's father, Nii Anum is the woleſatse of Nubunaa, a fishing village beyond Accra. Nii Anum protested that since the dawn of history, and at Nubunaa, no woman or girl had ever ventured to go on any fishing expedition on the high seas. He further revealed that the punishment for any woman or girl who defies the status quo was instant death, by Mami-Wata.
Okaikor argued that the so called "taboo" was a figment of the imagination of their ancestors who introduced it to scare women, and for that matter, girls from going fishing on the high seas.
Nii Anum defies the odds and give in to his daughter's request.
In due course Okaikor falls in love with Wang Yu, a Chinese tuna fishing trawler owner operating from Tema. The Chinese introduces Okaikor and her crew members to all sorts of illegal activities. One thing leads to another until "the law" catches up with the gang.
₵20.00
Out of stock
SKU:

BK3781
Categories: 9-12 years, Action & Adventure, Action & Adventure, African Authors, Age Range, Author Origin, Children & Teens, Genre Fiction, Ghana, Literary Fiction, Literature & Fiction, Teens, Young Adult Fiction
Tags: Deviant Girl, DigiBooks Ghana Ltd, Samuel Nii Ashie Nikoi
Samuel Nikoi is a certified economist. Samuel attended Labone Secondary School in Accra. He continued his education at Kwame Nkrumah University of Science and Technology in Kumasi, where he obtained a BA degree in Social Sciences with specialization in economics and sociology.
Samuel has been an entrepreneur for several years. He has special interests in project management, entrepreneurship, education and research.
His four other novels are: Deviant Boy, Deadly Encroachers, Disastrous Inferno and Vital Evidence.
Customers Also Bought These