You are previewing:

Brass Neck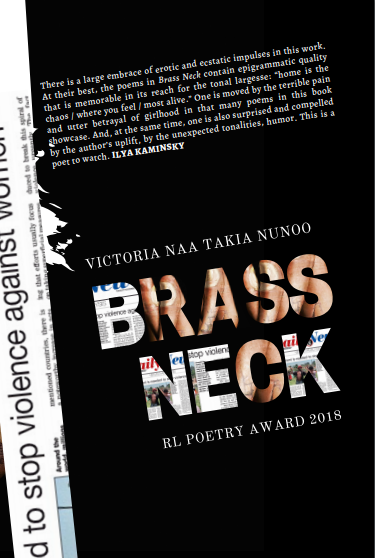 Brass Neck
Brass Neck
There is a large embrace of erotic and ecstatic impulses in this work. At their best, the poems in Brass Neck contain epigrammatic quality that is memorable in its reach for the tonal largesse: "home is the chaos / where you feel / most alive." One is moved by the terrible pain and utter betrayal of girlhood in that many poems in this book showcase. And, at the same time, one is also surprised and compelled by the author's uplift, by the unexpected tonalities, humor. This is a poet to watch. – Ilya Kaminsky, Author of Deaf Republic
Victoria Naa Takia Nunoo forges a self-conscious sense of otherness, and then digs into it with a sincerity of language that draws the reader in.
Brass Neck traces the becoming of a woman – probing experiences with an earnest, uncompromising – almost defiant tongue. These poems make bare what it means to examine the self, to acknowledge the self's own queerness, and to thread through its existence with deftness, precision and empathy all at once. – Ama Asantewa Diaka, Author of You Too Will Know Me
Victoria Naa Takia Nunoo bends language with elegance and a kind of passion that leaves the reader breathless. Brass Neck is a collection that traces a path across several realities especially about the traumas of existing as a woman. The language is soft and intense. Naa Takia in this collection, delves into experiences with luminous intensity. Her insights are perceptive and lyrical. The courage of this book is in how it asserts itself into everything without care. – Tolu Daniels, Writer & Editor
₵75.00
Out of stock
SKU:

BK3222
Categories: African Authors, Author Origin, Ghana, Literature & Fiction, Poetry, Women
Tags: Brass Neck, Ghana, Ghanaian Writers, Poems, Poetry, Poetry by Women, Victoria Naa Takia Nunoo
Victoria Naa Takia Nunoo is a Ghanaian writer and poet. Her works of fiction and/or poetry have appeared in various online literary magazines including The Kalahari Review, Brittle Paper, Afridiaspora, Afreada, Praxis Mag Online, and in the anthology, 'The Different Shades of a Feminine Mind'; an African Women Writers Literary Project. Her poetry collection, Yellow Tulips, was shortlisted in the 2017 RL Poetry Award, and her second poetry collection, Brass Neck, was the winning manuscript for the 2018 RL Poetry Award.