You are previewing:

Beyond Fear and Power: Osahene Boakye Djan – Pioneer Journey from the Village to the City and Back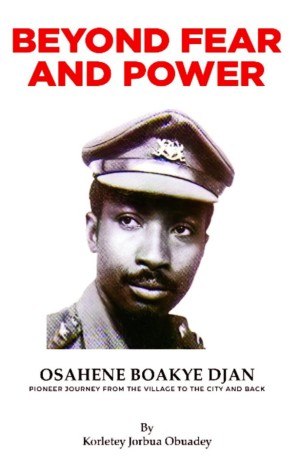 Beyond Fear and Power: Osahene Boakye Djan – Pioneer Journey from the Village to the City and Back
| | |
| --- | --- |
| Weight | 0.55 kg |
| Published Year | 2022 |
| Page Count | 307 |
| ISBN | 978 9988 32465 0 |
| Format | Paperback |
| Author | Korletey Jorbua Obuadey |
Beyond Fear and Power: Osahene Boakye Djan – Pioneer Journey from the Village to the City and Back
On 2nd June, 1979, the military high command of the Ghana Armed Forces picked up intelligence of an impending coup against their regime from the 5 Battalion, the only fighting unit in Accra at the time.
General Odartey Wellington, the then Army Commander, informed his lower commanders to take steps to order Captain Boakye Djan, the D Company Commander of the 5 Battalion of Infantry to stop it.
On 4th June, 1979, Captain Boakye Djan emerged to become the substantive head of government and official spokesperson of the Armed Forces Revolutionary Council of Ghana.
This is the story of one of Africa's great military masterminds and why he has survived it all.
₵150.00
Available on backorder
SKU:

BK6016
Categories: African Authors, African Biographies, African History, African Politics, Author Origin, Best Seller, Biographies & Memoirs, Civil Liberties & Political Activism, Democracy, Ghana, Historical, Historical Study & Educational Resources, History, Ideologies & Doctrines, International & World Politics, Leaders & Notable People, Military, Military History, Nation building, Politicians, Politics & Government, Politics & Social Sciences, Politics & State, Presidents & Heads of State, Radicalism, Revolutions & Coups, West African History
Tags: 31 December, Beyond Fear and Power: Osahene Boakye Djan - Pioneer Journey from the Village to the City and Back, Boakye Djan, Death and Pain, Death and Pain: Rawlings' Ghana - The Inside Story, Ghana, Ghana History, JJ Rawlings, JJR, June 4th, Korletey Jorbua Obuadey, Mike Adjei, Osahene Boakye Djan, PNDC, Politics, Rawlings, Revolution
| | |
| --- | --- |
| Weight | 0.55 kg |
| Published Year | 2022 |
| Page Count | 307 |
| ISBN | 978 9988 32465 0 |
| Format | Paperback |
| Author | Korletey Jorbua Obuadey |
Jorbua Obuadey was educated at the Rev. John Teye Memorial Institute and he had his secondary education at the Presbyterian Boys Secondary School Legon.
He has a Diploma in Film Studies from the Academy of Screen Arts and a Degree in Psychology from the University of Cape Coast.
He is a student and activist of the African Revolution.
Beyond Fear and Power is his first historical biography.
Customers Also Bought These