You are previewing:

Be The Difference: A Leadership Roadmap for the New African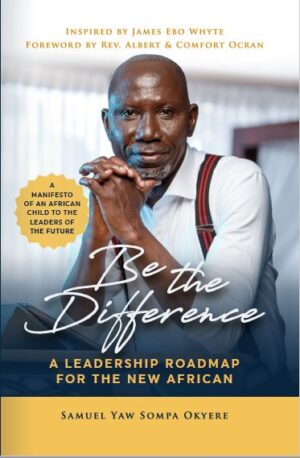 Be The Difference: A Leadership Roadmap for the New African
Be The Difference: A Leadership Roadmap for the New African
Be the Difference explores the science, philosophies, theological doctrines, art and practice of how anybody committed to becoming influential can improve their leadership effectiveness. It unravels the mystery of why some people are respected and trusted as leaders whiles some traditionally functional heads are fast loosing relevance. This book discusses the principles and challenges of leadership in Africa, drawing inspiration from Ghana's favourite uncle; Uncle Ebo Whyte.
This is a book for the 'New African', a manifesto of an African child to the leaders of the future. It inspires the African youth to believe in themselves and to desire to contribute to the developmental possibilities of Africa. It is a book that welcomes us to a new age of Africa's transformation.
₵100.00
SKU:

BK3676
Categories: African Authors, African Biographies, Author Origin, Biographies & Memoirs, Ghana, Historical, Leaders & Notable People, Motivational & Self-Help, Self-Help, Success
Tags: African, Be The Difference: A Leadership Roadmap for the New African, Biographical, Leadership, Personal Development, Samuel Okyere, Samuel Yaw Sompa Okyere, Success, Uncle Ebo Whyte
Samuel Yaw Sompa Okyere has a Bachelor of Science degree in Actuarial Science from University of Cape Coast. He was the founding president for the Society of Actuarial Science Students in UCC. He has a Masters in Risk Management and Finance from the Business School Netherlands and serves as a learning coach for the Tier One business school and the National Banking College of Ghana. He teaches Enterprise Risk Management, Governance and Ethics at the Institute of Chartered Compliance and Cyber Analysts. Yaw is a PECB Certified Information Security Master and has led in implementing and maintaining ISO 27001 for a universal bank in Ghana.
Yaw is a lawyer and an expert in Enterprise Risk Management, Strategy, Business Optimisation, Banking & Finance and Information Security. He has established Operational and Market Risk departments in three universal banks in Ghana. His passion spans leadership, academia, consultancy, social influence and system thinking. He is the author of the book, 'Fate of System Thinking; Lessons from Decision Optimisation- Stories from UT Bank, Capital Bank and uniBank'. He is a Ghanaian and a believer of Africa's growth possibilities.
Customers Also Bought These