You are previewing:

The First Vice President: A Biography of JWS de Graft-Johnson (Hardcover)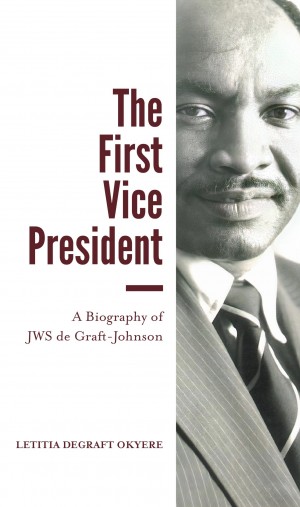 The First Vice President: A Biography of JWS de Graft-Johnson (Hardcover)
The First Vice President: A Biography of JWS de Graft-Johnson (Hardcover)
In the late 1970s, Joe de Graft-Johnson appeared on the national political scene as an Association of Recognized Professional Bodies executive, overlapping with his tenure as president of the Ghana Institution of Engineers. During this time, Joe actively demonstrated against the socioeconomic decline and lack of regard for professional guidance by the military regime. Joe subsequently won the People's National Party's nomination and became the Republic's Vice President in 1979. Before this, he had transformed the Building and Road Research Institute into a prominent voice in using natural resources to address developmental needs, imbued as he was, with nation-building.
Joe grew up within a family tradition of service to the country, instructed by lessons such as his grandfather's contributions through the Aborigines' Rights Protection Society. The Mfantsipim School and the historical significance of Cape Coast had also left their mark on him.
Later, in exile, still focused on national development, he fought for the transition to democracy.
The First Vice President chronicles the extraordinary life of Joe, spent in dedication to his country.
₵185.00
In stock
SKU:

BK5900
Categories: African Authors, African Biographies, African History, Author Origin, Biographies & Memoirs, Business Professionals, Ghana, Historical, History, International & World Politics, Leaders & Notable People, Nation building, Politics & Government, Politics & Social Sciences, Presidents & Heads of State, Professionals & Academics, West African History
Tags: 31 December, African Biographies, African History, African Leaders, Biographies and Memoirs, Democracy Activism, Detention, Diplomat, Exile, First Vice-President, Ghana, Ghana History, Hilla Limann, Hilla Limann: Scholar, Historical African Biography, Historical Ghanaian Biography, Ivan Addae-Mensah, JJ Rawlings, JJR, June 4, June 4th, Leadership, Letitia deGraft Okyere, Nation building, PNC, PNDC, PNP, Political History, Political Leader, Politics, Politics and Government, Public Administration, Rawlings, Research and Application, Revolution, Statesman - A Biography, The First Vice President: A Biography of JWS de Graft-Johnson, West
Dr. Letitia deGraft Okyere was inspired in 2016 to research the Third Republic of Ghana, a forgotten period in the history of the nation. The outcome was the novel, The First Vice President: A Biography J.W.S. de Graft-Johnson, published by MacSwain in 2022. Letitia extended her appreciation of historical personalities and the contributions each made to his (or her) world by writing children's historical biographies of people of African descent. She published Eléni of Ethiopia: The Wise Empress, King Ghartey IV: Innovative 19th Century Merchant, and Phillis Wheatley: Pioneer African American Poet in 2021 through Lion's Historian Press. Letitia, a proud alumna of the University of Leeds, U.K., continues to search the annals of life for stirring stories of men and women of the past. Letitia lives with her family in Arkansas, the Natural State of the U.S.A., where she works as a public health administrator in state government.
Customers Also Bought These