You are previewing:

Around the World in 80 Days (Great Illustrated Classics) – Hardcover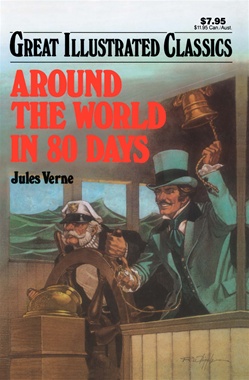 Around the World in 80 Days (Great Illustrated Classics) – Hardcover
Around the World in 80 Days (Great Illustrated Classics) – Hardcover
A Daring Wager!
Before there were airplanes and high speed travel, Phileas Fogg, an English gentleman, bets 20,000 pounds that he can travel around the world in only 80 days. En route he meets a beautiful Indian Princess, gets mistaken for a notorious criminal and is pursued by a detective with a warrant for his arrest. Follow his fantastic adventures through four continents in his daring race against time. It's a fast-paced, action-packed, high-spirited journey filled with romance, danger and adventure.
Jules Verne (1828-1905) was a French author best known for his tales of adventure, including Twenty Thousand Leagues under the Sea, Journey to the Center of the Earth, and Around the World in Eighty Days. A true visionary, Verne foresaw the skyscraper, the submarine, and the airplane, among many other inventions, and is now regarded as one of the fathers of science fiction.
Jules Gabriel Verne was born in the French port city of Nantes on 8 February, 1828, to Pierre Verne, a successful lawyer, and his wife Sophie. Verne published Five Weeks in a Balloon in 1863, an immediate hit which was followed by Journey to the Centre of the Earth (1864), From the Earth to the Moon (1865), and his two most inspiring books, Twenty Thousand Leagues Under the Sea (1869) and Around the World in Eighty Days (1872). Verne died of old age and illness on March 24, 1905.