You are previewing:

Quotes by NAD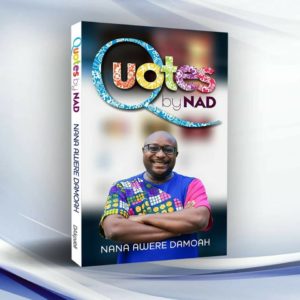 Quotes by NAD
Quotes by NAD
Call it an anthology of quotes, poems, prose or common sense, Quotes by NAD is a potpourri of witty statements and thoughts of a citizen for citizens bold enough to face the truth.
The collection is a throwback of Nana Awere Damoah's Facebook posts over the past years weighing on relevant issues that made the headlines and digested extensively nationwide.
03 June
Nana Awere Damoah was born in Accra, Ghana. He holds a Master's degree in Chemical Engineering from the University of Nottingham, UK, a Bachelor's in Chemical Engineering from the Kwame Nkrumah University of Science and Technology, (KNUST), Kumasi, Ghana. Nana spent all his secondary or high school years at Ghana National College, Cape Coast, Ghana and speaks fondly of growing up in the suburb of Kotobabi, in the Ghanaian capital, where he started his education at the local Providence Preparatory School.
A British Council Chevening alumnus, Nana works in West Africa. He is an associate of Joyful Way Incorporated, a Christian Music Ministry in Ghana, where he was the group's National President from 2002 to 2004.
Nana started writing seriously in 1993 when he was in the sixth form and has had a number of his short stories published in the Mirror and the Spectator. In 1997, he won the first prize in the Step Magazine National Story Writing Competition. His writing has appeared in StoryTime ezine, Legon Business Journal, Sentinel Nigeria Magazine and StoryTime.
He is the author of seven books, has contributed to two anthologies and edited one book, My Book of #GHCoats. He maintains two personal blogs at www.nanadamoah.com and www.nanaaweredamoah.wordpress.com.
He is married to Vivian. The couple and their children are based in Tema, Ghana.
Editorial Review
"The Roswell Incident--whether legend, fact, or some combination of both--has inspired countless novels and movies over the years, but David Lynn Golemon's Event peels back the layers of Roswell with refreshing originality. The action is spectacularly cinematic, the characters compelling, and the story is a flat-out adrenaline rush that pits real-world, cutting-edge military technology against a literally out-of-this-world threat. Even better, the Event Group itself is one of the best fictional agencies to arise in the literature of government conspiracies." ―New York Times bestselling authors Judith & Garfield Reeves-Stevens on the Event Group Thrillers