You are previewing:

Who Moved My Heels?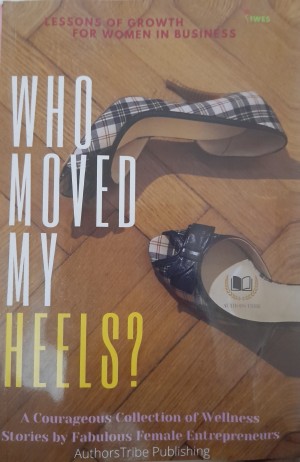 Who Moved My Heels?
Who Moved My Heels?
This book gives provides a diverse backdrop of females in business from eleven countries. It shares deep insights on how to ignite your purpose and passion.
The "Who Moved My Heels" classic brings 18 businesswomen into the consultation room to share their real, raw struggle of entrepreneurship. This book also collates impactful, heartfelt, valuable lessons that encourage, motivate and strengthen females starting out in business. It is a courageous collection of honest, down-to-earth experiences aimed at warding off doubts that may swerve existing entrepreneurs off-track.
Dr. Abena Asomaning-Antwi partners with prolific authors and rising women such as Kiran Shah, Dr Aloysis Ogle, Arpita Kaul, Cardela Coulson, Dr. Nongnush Ammoury, Georgina Kelly, Arundhati Seigell, Farzana Muhammad, Dr. Venessa Moussa, Lady Charul Jaitly, Priyaa Televvane, Atiyya Dudhat, Dr. Genevieve Duncan, Vyara Tosheva, Dr. Fatima Beena, Lynette Lobo, and Fauza Belts.
₵100.00
Available on backorder
SKU:

BK6113
Categories: African Authors, Author Origin, Biographies & Memoirs, Business Culture, Business Life, Business, Finance & Law, Career, Ghana, History, Industries, Leaders & Notable People, Motivational & Self-Help, Self-Help, Small Business & Entrepreneurship, Women & Business, Women in History
Tags: Abena Asomaning Antwi, Ghana, Motivational, Tribe Publishers, Who Moved My Heels, women
Dr. Abena Asomaning Antwi is a health economist and human rights advocate. She has experience in both the public and private sectors in Ghana. She has established an NGO called Angel-Zoe Foundation which supports women and juveniles in prison.
She has been awarded for her contribution to the society under 2013 Personality of the Future (PIPA) by The French government; 2013 MTN Heroes of change award for social protection; 2016 Glitz Women of the Year award for Advocacy; the 62nd Point of Light Award by Her Majesty the Queen of England (2018); and Femme de jour recognition for Africa by President Emmanuel Macron of France (2019).
She is resourceful and passionate about women and youth empowerment. She is a wife, a mother of four, a sister and a friend.