You are previewing:

Walter Isaacson Bookset: The Genius Biographies – Benjamin Franklin, Einstein, Steve Jobs, and Leonardo da Vinci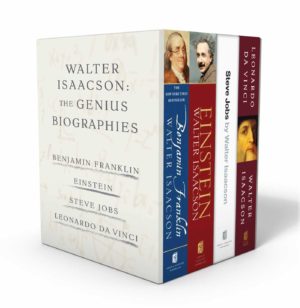 Walter Isaacson Bookset: The Genius Biographies – Benjamin Franklin, Einstein, Steve Jobs, and Leonardo da Vinci
Walter Isaacson Bookset: The Genius Biographies – Benjamin Franklin, Einstein, Steve Jobs, and Leonardo da Vinci
This exclusive boxed set from beloved New York Times bestselling author Walter Isaacson features his definitive biographies: Steve Jobs, Einstein, Benjamin Franklin, and Leonardo da Vinci.
"If anybody in America understands genius, it's Walter Isaacson." —Salon
Celebrated historian, journalist, and bestselling author Walter Isaacson's biography collection of geniuses now available in one boxed set—the perfect gift for history lovers everywhere.
Steve Jobs:
The "enthralling" (The New Yorker) worldwide bestselling biography of legendary Apple cofounder Steve Jobs. The story of the roller-coaster life and intense creative entrepreneur whose passion for perfection and ferocious drive revolutionized six industries: personal computers, animated movies, music, phones, tablet computing, and digital publishing. Isaacson's portrait touched millions of readers.
Einstein:
How did his mind work? What made him a genius? Isaacson's biography of Albert Einstein—also the basis for the ten-part National Geographic series starring Geoffrey Rush—shows how Einstein's scientific imagination sprang from the rebellious nature of his personality. His fascinating story is a testament to the connection between creativity and freedom.
Benjamin Franklin:
In this colorful and intimate narrative, Isaacson provides the full sweep of Ben Franklin's amazing life, showing how the most fascinating Founding Father helped forge the American national identity.
Leonardo da Vinci:
History's consummate innovator and most creative thinker. Isaacson illustrates how Leonardo's genius was based on skills we can improve in ourselves, such as passionate curiosity, careful observation, and an imagination so playful that it flirted with fantasy.
₵600.00
Out of stock
SKU:

BS56
Categories: Author Origin, Biographies & Memoirs, Business Culture, Business Life, Business Professionals, Business, Finance & Law, Computers & Technology, Computers & Technology, Educators, Industrialists, Industries, Internet & Social Media, Leaders & Notable People, Mobile & Wireless Telecommunications, Professionals & Academics, Science & Math, Scientists, US/Canadian Authors
Tags: Apple, Leander Kahney, Steve Jobs, Tim Cook
Walter Isaacson, University Professor of History at Tulane, has been CEO of the Aspen Institute, chairman of CNN, and editor of Time magazine. He is the author of Leonardo da Vinci; Steve Jobs; Einstein: His Life and Universe; Benjamin Franklin: An American Life; and Kissinger: A Biography. He is also the coauthor of The Wise Men: Six Friends and the World They Made.