You are previewing:

The Truths We Hold: An American Journey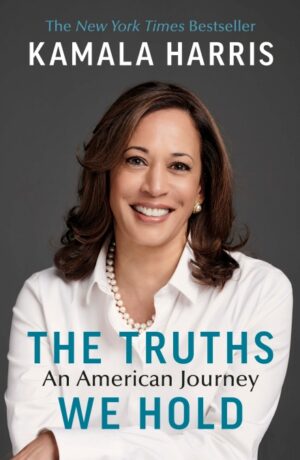 The Truths We Hold: An American Journey
The Truths We Hold: An American Journey
Discover Vice President-elect Kamala Harris's New York Times bestselling book about the core truths that unite us and the shared values that will see us into the future.
'A life story that genuinely entrances' Los Angeles Times
The daughter of immigrants and civil rights activists, Vice President-elect Kamala Harris was raised in a California community that cared deeply about social justice. As she rose to prominence as a political leader, her experiences would become her guiding light as she grappled with an array of complex issues and learned to bring a voice to the voiceless.
Now, in The Truths We Hold, Harris reckons with the big challenges we face together. Drawing on the hard-won wisdom and insight from her own career and the work of those who have most inspired her, she communicates a vision of shared struggle, shared purpose, and shared values as we confront the great work of our day.
'Personal integrity shines through every page' Observer
₵150.00
Out of stock
SKU:

BK3994
Categories: Biographies & Memoirs, Historical, Ideologies & Doctrines, International & World Politics, Leaders & Notable People, Leadership, Military, Nation building, Politicians, Politics & Government, Politics & Social Sciences, Presidents & Heads of State, Professionals & Academics, Social Activists, War
Tags: American History, Biographies, Kamala Harris, The Truths We Hold: An American Journey
Kamala D. Harris is the first woman and woman of colour to be elected vice president, a lifelong public safety and civil rights leader, who served until recently as a U.S. Senator from California. She began her career in the Alameda County District Attorney's Office, then was elected District Attorney of San Francisco. As California's Attorney General, she prosecuted transnational gangs, big banks, Big Oil, for-profit colleges and fought against attacks on the Affordable Care Act. Harris also fought to reduce elementary school truancy and pioneered the nation's first open data initiative to expose racial disparities in the criminal justice system and implemented implicit bias training for police officers. The second black woman ever elected to the U.S. Senate, Kamala Harris has worked to reform the American criminal justice system, raise the minimum wage, make higher education tuition free for the majority of Americans, and protect the legal rights of refugees and immigrants.
Customers Also Bought These