You are previewing:

The Secret of Shady Glen (Nancy Drew, #85)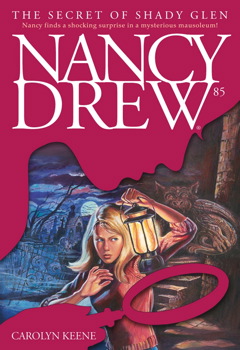 The Secret of Shady Glen (Nancy Drew, #85)
The Secret of Shady Glen (Nancy Drew, #85)
Age Range: 8 – 12 years
A cemetery of dark secrets…
and Nancy's in the middle of it!
Shady Glen was no different from any other cemetery — maybe a little spooky, but harmless nonetheless. At least that's what Nancy thought until she stumbled onto a treasure map…and stumbled into a world of trouble.
The map leads Nancy into a network of underground passageways, where she uncovers a series of clues to a recent outbreak of robberies and the location of a long-lost fortune in gold. She follows the hidden tunnels into the cold, dark heart of the cemetery and comes face-to-face with the chilling secret of Shady Glen!
₵35.00
Out of stock
SKU:

BK4832
Categories: 9-12 years, Action & Adventure, Age Range, Ages 6-8 years, Author Origin, Book Sets, Children & Teens, Children Classics, Illustrated books, Literary Fiction, Literature & Fiction, Mysteries & Detective Stories, Teens, US/Canadian Authors, Young Reader
Tags: Carolyn Keene, Nancy Drew, The Secret of Shady Glen (Nancy Drew 85)
Carolyn Keene is a pen name used by a variety of authors for the classic Nancy Drew Mystery series. The first author to use the pseudonym was Mildred Wirt Benson, who wrote 23 of the original 30 books. Other writers who have adapted the "Carolyn Keene" moniker include Leslie McFarlane, James Duncan Lawrence, Walter Karig, and Nancy Axelrod.
Customers Also Bought These