You are previewing:

The Pot of Wisdom: Ananse Stories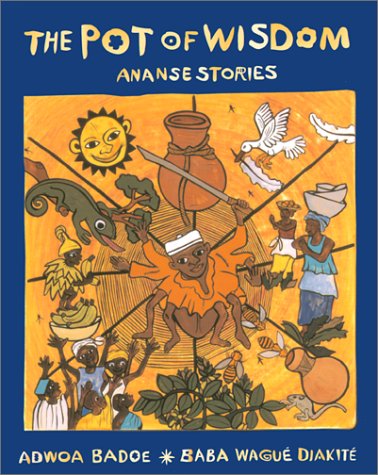 The Pot of Wisdom: Ananse Stories
The Pot of Wisdom: Ananse Stories
Age Range: 7 years and above

Drawing on the rich vein of traditional African stories featuring the spider Ananse, Ghanaian author Adwoa Badoe and Malian illustrator Baba Wagué Diakité bring young readers a marvelously witty and entertaining collection of ten tales about this legendary spider swindler.
The tales deal with important issues that everyone faces — justice, money, marriage, vanity, self-respect, and more — but couch the heavy lessons in lively folktales. Ananse sometimes succeeds; other times he makes a fool of himself and is ashamed — but never for long. Many elements of these stories can be found in other trickster tales, including those of African origin like the Uncle Remus stories and those of aboriginal American groups like the Native American coyote tales and the jaguar tales of Central and South America.
₵20.00
Out of stock
SKU:

BK1711
Categories: 9-12 years, African Authors, Age Range, Ages 6-8 years, Ananse stories, Author Origin, Best Seller, Book Sets, Children & Teens, Fairy Tales & Folklore, Ghana, Illustrated books
Tags: Adwoa Badoe, Ananse, Ananse Stories, Baba Wagué Diakité, Ghana
Dr Adwoa Badoe trained as a physician in her native Ghana but has evolved quite naturally into an African Griot.
She is an author, story teller and teacher of African dance and lives currently in Guelph Ontario. She grew up loving the traditional dances of Ghana, West Africa. Her interest in dance has led her to learn dances from other parts of Africa. Her classes and workshops have a unique and infectious vibrancy, capturing the essence of the people, their celebrations and their lives.
Adwoa's first Childrens book, Crabs for Dinner was published in 1995. Since then she has published The Queen's New Shoes, The Pot of Wisdom (a collection of Ananse Stories) and Nana's Cold Days.
She also writes for markets in Africa through Macmillan Educational and Smartline Publishing: Memuna's Baby, A Wedding Story, Radio Rescue and Street Girls.