You are previewing:

The Castle Conundrum (Hardy Boys Mysteries #168)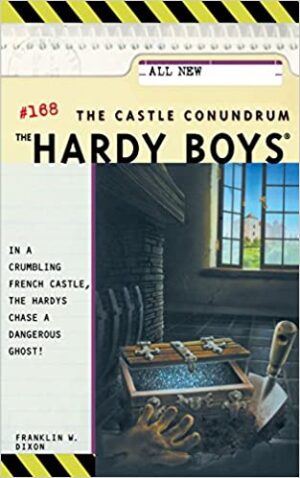 The Castle Conundrum (Hardy Boys Mysteries #168)
Related Products
Customers Also Bought These
The Castle Conundrum (Hardy Boys Mysteries #168)
Age Range: 8 – 12 years
AN ANCIENT HIDDEN TREASURE STIRS UP A CUNNING PLOT!
Teen Village International brings Frank and Joe to the south of France to rebuild a deserted town. The finished project will be a center for refugee children. But word is that the local castle is haunted — by the centuries-old ghost of its lord, who hid a fortune in diamonds from bandits within its thick stone walls.
Spooky lights, strange noises, and several close shaves convince the Hardys that someone is trying to sabotage the project. A pair of French twins, descendants of the owner, want to save the castle from developers. Every facet of the case leads to a dead end — and the Hardys are hunting a desperate enemy!
₵40.00
Out of stock
SKU:

BK4463
Categories: 9-12 years, Action & Adventure, Age Range, Ages 6-8 years, Author Origin, Book Sets, Children & Teens, Children Classics, Illustrated books, Literary Fiction, Literature & Fiction, Mysteries & Detective Stories, Teens, US/Canadian Authors, Young Reader
Tags: Franklin W Dixon, Hardy Boys, The Castle Conundrum, The Castle Conundrum (Hardy Boys Mysteries #168)
Franklin W. Dixon is the pen name used by a variety of different authors (Leslie McFarlane, a Canadian author, being the first) who wrote The Hardy Boys novels for the Stratemeyer Syndicate (now owned by Simon & Schuster). This pseudonym was also used for the Ted Scott Flying Stories series.
Customers Also Bought These