You are previewing:

The Battle of Bayport (Hardy Boys Adventures #6)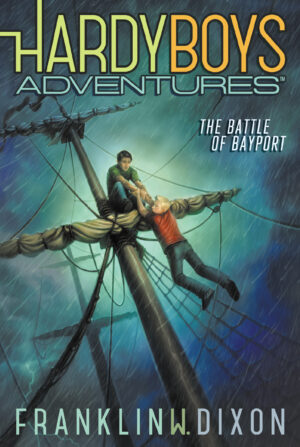 The Battle of Bayport (Hardy Boys Adventures #6)
Related Products
Customers Also Bought These
The Battle of Bayport (Hardy Boys Adventures #6)
Age Range: 8 – 12 years
A reenactment battle marches into Bayport in this Hardy Boys adventure—a fresh approach to a classic series.
Bayport goes back in time when a Revolutionary War-era battleship is discovered, along with a treasure trove of historic artifacts. To celebrate, the town stages a reenactment of the historic Battle of Bayport, complete with antique artillery, canons, and tricorn hats. Even Frank and Joe Hardy are decked out in full Colonial costume, fighting over freedom and taxes on opposite sides of the battle line.
But things get a little too real when a stray shot leaves Bayport's biggest benefactor, Don Sterling, without a pulse. Wait a minute—weren't those muskets supposed to be unloaded? And even though the Hardy Boys have technically retired from solving mysteries, they can't help but get involved, especially when a favorite teacher turns out to be a prime suspect. Is someone trying to frame Mr. Lazin? And who would want Don Sterling dead? Murder by reenactment is one the Hardys haven't seen before, but don't think they're not up for the challenge!
₵40.00
Out of stock
SKU:

BK4091
Categories: 9-12 years, Action & Adventure, Age Range, Ages 6-8 years, Author Origin, Book Sets, Children & Teens, Children Classics, Illustrated books, Literary Fiction, Literature & Fiction, Mysteries & Detective Stories, Teens, US/Canadian Authors, Young Reader
Tags: Franklin W Dixon, Hardy Boys, Hardy Boys Adventures, The Battle of Bayport (Hardy Boys Adventures #6)
Franklin W. Dixon is the pen name used by a variety of different authors (Leslie McFarlane, a Canadian author, being the first) who wrote The Hardy Boys novels for the Stratemeyer Syndicate (now owned by Simon & Schuster). This pseudonym was also used for the Ted Scott Flying Stories series.
Customers Also Bought These