You are previewing:

Sports Sabotage (Hardy Boys, The Secret Files #8)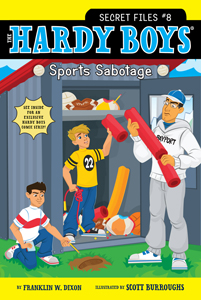 Sports Sabotage (Hardy Boys, The Secret Files #8)
Sports Sabotage (Hardy Boys, The Secret Files #8)
Age Range: 6 – 12 years
Frank and Joe bring their detective skills to the athletic arena in this all-new Hardy Boys Secret Files mystery!
It's time for Field Day at Bayport Elementary and all the kids are excited! Whatever grade wins gets a pizza party, and the person with the highest personal score also gets a special prize. But when the field equipment is sabotaged the day before the events are supposed to start, it looks like Field Day might not happen after all—unless someone can find out who is behind the mess of ruined rackets, tangled jump ropes, and flattened balloons. Can Frank and Joe crack the case and save Field Day?
₵40.00
Out of stock
SKU:

BK4102
Categories: 9-12 years, Action & Adventure, Age Range, Ages 6-8 years, Author Origin, Book Sets, Children & Teens, Children Classics, Illustrated books, Literary Fiction, Literature & Fiction, Mysteries & Detective Stories, US/Canadian Authors, Young Reader
Tags: Franklin W Dixon, Hardy Boys, Sports Sabotage, The Secret Files
Franklin W. Dixon is the pen name used by a variety of different authors (Leslie McFarlane, a Canadian author, being the first) who wrote The Hardy Boys novels for the Stratemeyer Syndicate (now owned by Simon & Schuster). This pseudonym was also used for the Ted Scott Flying Stories series.
Customers Also Bought These