You are previewing:

Samantha Jane's Missing Smile: A Story about Coping with the Loss of a Parent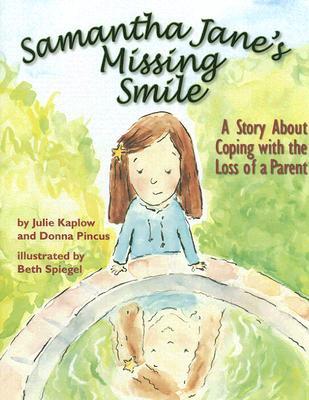 Samantha Jane's Missing Smile: A Story about Coping with the Loss of a Parent
Samantha Jane's Missing Smile: A Story about Coping with the Loss of a Parent
Age Range: 6+ years
Samantha Jane hasn't been smiling much lately.
She lost her smile about a month ago.
That was when her dad died.
Samantha Jane misses her father very much. Sometimes the sadness feels so big she is afraid to let herself feel it. Sammy Jane is also worried about her mother, and whether they are all going to be happy again someday. But then she feels guilty. Is it right to feel happy when her father can't be here to enjoy life, too?
The loss of a parent is a profound event for a child. In the aftermath of the death, children face great emotional vulnerability and distress and need help from their surviving parent and other supportive adults around them. Reassurance and support, as well as practical coping tools, are key to the child's ability to recover and lead a full and happy life. Samantha Jane's Missing Smile is the story of one child's loss.
When her father dies, Sammy Jane doesn't know how to express her grief. She fears that her sadness will overwhelm her if she faces it. She worries that her sadness will overburden her mother, too, and that her mother won't be available for her. She is angry at the unfairness of her loss. And she feels guilty about the prospect of smiling ever again.
In this gentle story, Sammy Jane learns to face her feelings and to realize that they won't go away if she ignores them. She also discovers that sharing those feelings is both comforting and reassuring. With her mother's help, she finds ways to keep the memory of her father alive. And finally, she understands that a full, happy life is what her father would want for her.
A Note to Parents by Dr. Jane Annunziata describes the psychological issues that children confront when a parent dies, and offers guidance to the remaining parent for helping the child recover from this life-changing event.
₵20.00
Out of stock
SKU:

BK2162
Categories: 9-12 years, Age Range, Ages 6-8 years, Children & Teens, Family & Lifestyle, Health, Illustrated books, Medicine
Tags: Beth Spiegel, Death, Donna Pincus, Grief, Julie Kaplow, Loss