You are previewing:

Rusty Comes Home (Rusty #5)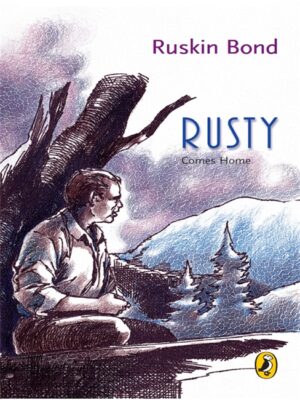 Rusty Comes Home (Rusty #5)
Rusty Comes Home (Rusty #5)
Age Range: 9+ years
Rusty returns to his beloved hills, never to leave again
Rusty Comes Home is the fifth and final volume in Puffin's complete collection of Ruskin Bond's ever-popular Rusty stories. A lonely and sensitive boy who lost his father early, Rusty spent his childhood in boarding schools and with relatives in Dehra. While still a teenager, he ran away from his foster home and had myriad adventures before landing up in London with the ambition of becoming a writer.
This book chronicles Rusty's exploits after his return from London, as he explores Delhi, Dehra and the small, dusty town of Shahganj before settling down in Mussoorie, making his living as a writer, and revelling in the hills that have always fascinated him. Rusty Comes Home contains some captivating stories about Rusty's friends and fleeting acquaintances, about human nature and the supernatural. Among his friends in Shahganj are Ketan, a victim of the Partition and prone to paralytic fits; Madhu, a child whose life is tragically cut short, but not before she leaves an indelible impression on Rusty; and Suresh, a disabled child with whom Rusty strikes up a close bond. In Dehra he meets up with his genial Uncle Bill, who makes it his habit to poison people with arsenic; the incredible Jimmy, a jinn who can extend his arms at will to infinite lengths; and Miss Pettibone, the oldest resident of Dehra, who enthralls him with riveting stories from the town's past. Then there is the unnamed basket-selling girl he meets by chance on the Deoli railway platform and can never forget; and Binya, a young and vivacious widow, who floats into his life on the strains of a song. Full of charming and idiosyncratic characters, these stories of love, loss and adventure will appeal to young readers of all ages.
Adventurous and thought-provoking, Rusty Runs Away is a book that children and young adults everywhere will enjoy.
₵35.00
Out of stock
SKU:

BK4172
Categories: 9-12 years, Activities, Crafts & Games, Age Range, Ages 6-8 years, Animals, Asian Authors, Author Origin, Beginner Readers, Children & Teens, Children Classics, Early Childhood Education, European Authors, Illustrated books, Short Story Collections, Teens
Tags: Ruskin Bond, Rusty, Rusty Comes Home, Rusty Runs Away
Born in Kasauli (Himachal Pradesh) in 1934, Ruskin Bond grew up in Jamnagar (Gujarat), Dehradun, New Delhi and Shimla. His first novel, The Room on the Roof, which was written when he was seventeen, received the John Llewellyn Rhys Memorial Prize in 1957.
Since then he has written over 500 short stories, essays and novellas (including Vagrants in the Valley and A Flight of Pigeons) and more than forty books for children.
He received the Sahitya Akademi Award for English writing in India in 1993, the Padma Shri in 1999, and the Delhi government's Lifetime Achievement Award in 2012.
He lives in Landour, Mussoorie, with his extended family.
Customers Also Bought These