You are previewing:

Ola & Bisi Adventures of Health – Eat Healthy and Be Smart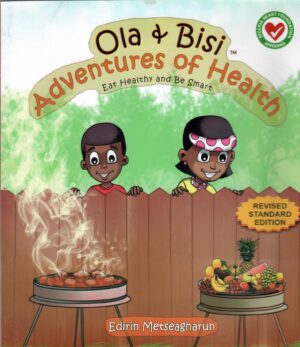 Ola & Bisi Adventures of Health – Eat Healthy and Be Smart
Ola & Bisi Adventures of Health – Eat Healthy and Be Smart
Age Range: 6+ years
Ola & Bisi Adventures of Health is a one of a kind literature that introduces Children and Teens into the very important world of healthy living. For too long, the message of eating right and being active has been focused on adults only even in the face of rising obesity levels among children particularly of the affluent.
Ola and Bisi Adventures of Health presents this message of eating right and being active to children in simple but interestingly story format that will get the child engaged.
In this book you will learn about:
The nutrient groups – Carbohydrates, protein, fat, vitamins and minerals
Which food contains which nutrient and their functions
Healthy breakfast, lunch and supper and healthy meal options
Ola & Bisi Adventures of Health includes information activities. It introduces children to a whole new world of living healthy.
₵25.00
Out of stock
SKU:

BK4740
Categories: Activities, Crafts & Games, Age Range, Ages 3-5 years, Ages 6-8 years, Beginner Readers, Children & Teens, Children Classics, Early Childhood Education, Family & Lifestyle, Fitness & Dieting, Health, Illustrated books, Parenting & Relationships, Short Story Collections
Tags: Edirin Metseagharun, Ola & Bisi Adventures of Health - Eat Healthy and Be Smart
Edirin Metseagharun is a teacher, public speaker and a counselor with a strong passion for children's health and fitness. She is a certified health coach and has a degree in Educational Management with a bias for Primary Education. She also has a certificate in Diet, Nutrition and Exercise.
She is the founder and coordinator of Passion for Healthy Kids Initiative (PHKI), a non-governmental organisation that addresses childhood undernourishment, obesity prevention and helping children to eat right and be active every day.
Customers Also Bought These