You are previewing:

OCR Investment: Creative Arts for Primary Schools Learner's Book 2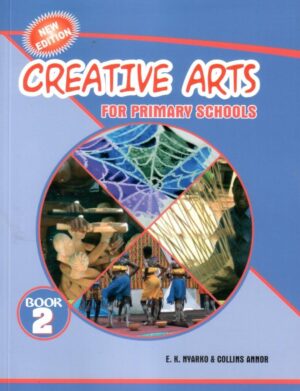 OCR Investment: Creative Arts for Primary Schools Learner's Book 2
OCR Investment: Creative Arts for Primary Schools Learner's Book 2
This book is the second among a series of six books designed to develop learners at the Basic Schools' creative and Innovative skills, critical thinking and problem-solving skills, collaborative and communicative skills.
Creative Arts at the basic school has been structured through practical learner-engaged activities to engage learners to acquire, develop and express their feelings and emotions in different ways during the learning process for effective transfer of knowledge: vertically and horizontally.
This book exposes learners to various aspects of Visual and Performing Arts; in drawing, painting, carving, music, dance, drama, etc.
The activities and approach in this book, combined with its carefully selected pictures and illustrations are expected to make teaching and learning of the subject at the basic level easier and enjoyable for both teachers and learners.
₵45.00
Available on backorder
SKU:

BK4498
Categories: 9-12 years, Activities, Crafts & Games, Activity book, African Authors, Age Range, Ages 3-5 years, Ages 6-8 years, Alphabet, Arts & Photography, Author Origin, Basic Concepts, Basic School Textbooks, Beginner Readers, Book Sets, Children & Teens, Crafts, Hobbies & Home, Early Childhood Education, Education & Teaching, English Language, Ghana, Illustrated books, Language Instruction, Languages, Lower Primary Textbooks, Textbooks, Workbooks, Young Reader
Tags: Class 2, Collins Annor, Creative Arts Textbook, Creative Arts Textbooks, E.K. Nyarko, NaCCA Approved, new curriculum, OCR Investment, OCR Investment: Creative Arts for Primary Schools, Textbook, Textbooks, Workbook
Customers Also Bought These