You are previewing:

A is for Ampe: An Alphabet Book from Ghana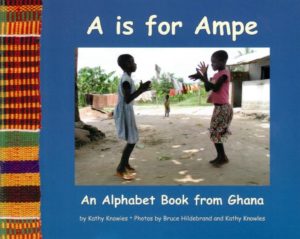 A is for Ampe: An Alphabet Book from Ghana
A is for Ampe: An Alphabet Book from Ghana
Age Range: 2 – 5 years
Pre-school – Grade 1
A is for Ampe: An Alphabet Book from Ghana is a must-add book for youngsters' home libraries as well as a must-purchase by day cares, kindergartens, early years classrooms and the children's section of public libraries.
In this well-designed alphabet book, the entire alphabet, in upper case, runs across the top of each page which has the focused-upon letter being presented in bolded, larger print. At the bottom of the page, the upper case letter appears in one corner and the lower case in the other. In between is the very brief text which follows a simple, standard pattern, eg. "D is for drum" or "T is for twins." The objects used to represent the letters can be found in Hildebrand's and Knowles' full colour photos which occupy most of each page. Children will encounter the familiar, such as "E is for eggs" and "U is for umbrella," but, as the short title indicates, they will also meet many new words. Hopefully, those adults who will be sharing this book with pre-readers will have, themselves, first read the book so that they will have discovered at the book's conclusion the "Glossary of Ghanaian Words" in which Knowles, in addition to providing, where needed, a pronunciation guide, has explained eight Ghanaian terms, including the title's "Ampe [AHM-pay]: A challenging game, usually played by girls, which involves jumping and clapping. The leading player tries to beat her opponent by the tactical placement of her left or right foot."
₵30.00
Available on backorder
SKU:

BK855
Categories: Activities, Crafts & Games, Activity book, African Authors, Age Range, Ages 3-5 years, Author Origin, Baby - 2 years, Beginner Readers, Children & Teens, Ghana, Illustrated books, Literature & Fiction, Pre-school
Tags: A is for Ampe: An Alphabet Book from Ghana, Alphabets, Juvenile, Kathy Knowles
Kathy Knowles is the founder and director of Osu Children's Library Fund. She lives in Canada and returns to Africa twice a year to promote literacy and libraries.