You are previewing:

New Power: How It's Changing The 21st Century – And Why You Need To Know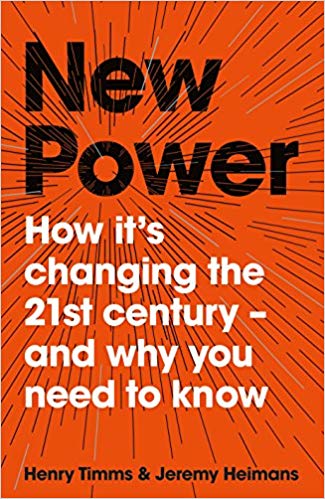 New Power: How It's Changing The 21st Century – And Why You Need To Know
New Power: How It's Changing The 21st Century – And Why You Need To Know
Two visionary thinkers examine the defining issue of our time: how the nature of power has changed, and how this 'New Power' is already changing our future
For most of human history the rules of power were clear: power was something to be seized, and then jealously guarded. Under this 'Old Power' we lived in a world of rulers and subjects.
Now, we all sense that something has changed. From #MeToo to Harvey Weinstein; Corbyn to Trump; from YouTube sensations to darker phenomena such as the emergence of ISIS – in our new hyper-connected world, ideas and movements can spread and flourish with astonishing force and speed.
In New Power, Jeremy Heimans and Henry Timms confront the biggest story of our age and trace how New Power is the key to understanding where we are and will prosper in the 21st Century.
Drawing on examples from business, politics, popular culture and social justice, as well as case studies of organisations like LEGO and TED, they explain the forces that are changing the course of our age.
In a world increasingly shaped by New Power, this book will show you how to shape your future.
Jeremy Heimans is the co-founder and CEO of Purpose, an organization headquartered in New York that builds and supports social movements around the world. He is the co-founder of GetUp!, an Australian political organization with more members than all of Australia's political parties combined. He has been named one of Fast Company's Most Creative People in Business and received the Ford Foundation's 75th anniversary Visionary Award. With Henry Timms, Jeremy is co-author of the book NEW POWER: How Power Works in Our Hyperconnected World - and How to Make It Work for You, forthcoming April 2018 from Doubleday. Their thinking on "new power" was featured as the Big Idea in Harvard Business Review, as one of 2014's top TED talks with over 1.25 million views, and by CNN as one of the Top Ten Ideas to Change the World in 2015.