You are previewing:

New Approach Towards Africa's Development — Lessons from Singapore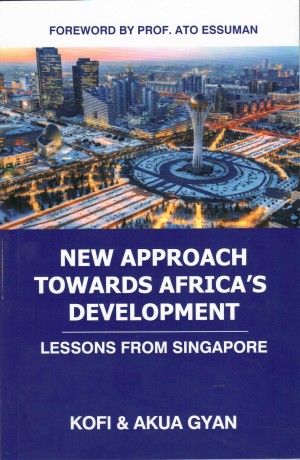 New Approach Towards Africa's Development — Lessons from Singapore
New Approach Towards Africa's Development — Lessons from Singapore
This book is written to examine the applicability of Singapore's development strategies to contemporary developing countries in Africa. At independence, Singapore experienced similar challenges as those still experienced by African countries.
However, Singapore survived hash internal conditions and pessimism from the International community by virtue of the adoption of pragmatic strategies to address problems unique to the island city-state. Singapore's experience points out that it is not the abundance of resources but the efficiency with which even the little is managed that determines success.
The book reveals that in the case of Africa, developmental ideas are abundant, but it is commitment and pragmatism (on the part of both government and people) that is lacking.
This book, therefore, stands the chance of being a reference point for many years.
₵30.00
Only 2 left in stock
SKU:

BK6034
Categories: African Authors, African Biographies, African History, African Politics, Author Origin, Biographies & Memoirs, Civil Liberties & Political Activism, Civilization & Culture, Ghana, Historical, History, International & World Politics, Leaders & Notable People, Nation building, Politics & Government, Politics & Social Sciences, Politics & State, Presidents & Heads of State, West African History, World
Tags: Africa, Akua Gyan, Ghana, Kofi Gyan, New Approach Towards Africa's Development- Lessons from Singapore, Singapore
Akua Aboagye Gyan is a Ghanaian Career Diplomat. She holds MA in International Affairs from the Legon Centre for International Affairs, BA in French and Psychology from the University of Ghana as well as Diploma in French from the University of Caen, Basse Normandy, France.
Kofi Gyan is an innovator, businessman, author, consultant and entrepreneur. He holds many positions and plays significant roles in Ghanaian enterprises and organisations.
He is the Founding President of Initiators Group of Companies, Founder/Executive Director of Initiators of Change Foundation and Board Chair of Impact Consult.
Kofi spear-headed the establishment of the Ghana-Angola Trade and Investment Centre and acts as the Executive Secretary. He worked with the National African Peer Review Mechanism Governing Council (NAPRM-GC) and played key roles in training programmes and other activities of the NAPRM-GC. While working with the NAPRM-GC, Kofi attended various conferences, seminars and workshops in Africa and Europe. Kofi Gyan holds MBA in Human Resource Management, a BA in Political Science from the University of Ghana and a Post-Graduate Diploma in Human Relations from the Institute of Commercial Management, UK.
Customers Also Bought These